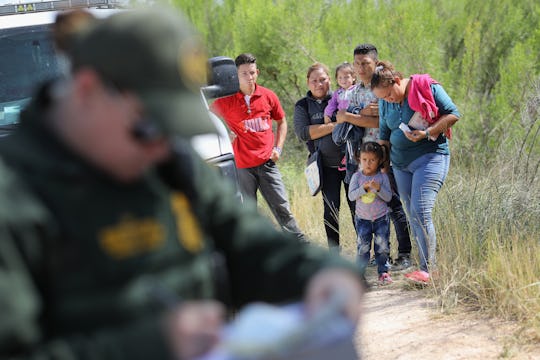 John Moore/Getty Images News/Getty Images
The Government Won't Reunite Families At The Border, So Here's How You Can Help
In May, U.S. Attorney General Jeff Sessions announced that the Trump administration will implement a new "zero tolerance" immigration policy that calls for the prosecution of every undocumented immigrant found crossing the United States border. As a result of this border crackdown, thousands of immigrant families are being torn apart. Children, including newborns, are being put in the system as their parents, many of whom are asylum-seekers, are carted off to jail. Despite the outrage against this practice, the federal government reportedly has no plans to reunite families separated at the border, according to The New Yorker, so here are a few ways you can help those migrant parents and their children.
Since Sessions made his initial announcement, about 2,000 minors have been taken from their parents at the U.S.-Mexico border, The New Yorker reported. Although some of these children have been placed in foster care or with a legal guardian already in the states, many have ended up in detention shelters, where they are held in cages, according to a video released by the government on Monday. That same day, ProPublica published obtained audio from inside a U.S. Customs and Border Protection facility, in which separated children can be heard sobbing and screaming for their parents as they're mocked by Border Patrol agents.
By the end of the summer, the Trump administration may separate and detain some 30,000 undocumented minors, Vox reported.
But plans to reunify these children with their parents do not seem to be forthcoming. A formal process doesn't exist to make sure that these migrant families will be together when they are deported back to their home country, according to The New Yorker. In fact, lawyers have reportedly had to urge deportation officers to hold off on a parent's deportation until they can be reunited with their kids. And there's no true system in place for tracking migrant families that have been separated, or to help immigrant parents figure out where their children are being held, The New Yorker reported.
The U.S. Department of Homeland Security (DHS) had said they would address the issue, but that doesn't seemed to have come to pass, according to advocates and lawyers who spoke with The New Yorker. Coordination between government agencies, such as DHS and the Department of Health of Human Services, barely exists.
You may feel that your hands are tied — that you can't do anything to help these families or change the system. But that's far from true. Here are just a few ways you can act.
Contact Your Elected Officials
Whether it's by email, phone, text, or carrier pigeon, contact your local or federal representatives to let them know that you do not support Trump's "zero tolerance" policy or separating families at the border. You can visit USA.gov to get your elected official's phone number, mailing address, and email, where you can voice your dissent. (You can also find out their contact information through Call My Congress or by texting RESIST to 50409.)
But don't just speak out against family separation — urge your elected officials to act. Recently, Democratic Sen. Dianne Feinstein of California introduced the Keeping Families Together Act, which would prohibit officials from separating children from their parent or legal guardian within 100 miles of the U.S. border. Every Democratic senator has cosponsored Feinstein's bill, but not a single Republican in Senate has shown their support, according to USA Today. (There are plans to introduce a House-version of the legislation.) If your elected official hasn't joined the Keeping Families Together Act, press them to do so.
Protest, Protest, Protest
Last Thursday, advocacy groups nationwide held marches and a virtual rally under the banner, "Families Belong Together," to protest Trump's border crackdown and separation of families. Another round of #FamiliesBelongTogether marches will take place on Sat., June 30 in Washington, D.C. and in other cities across the country, according to Vox. The National Domestic Workers Alliance, the American Civil Liberties Union, MoveOn, and the Leadership Conference are leading the protests in partnership with hundreds of other advocacy and legal groups, Vox reported.
But you don't have to be present physically at a rally or vigil to protest the government breaking up migrant parents and their children at the border. Think about signing a petition urging lawmakers to hold Sessions and ICE accountable or starting an email writing campaign to help others contact their representatives. You can also connect with people through Twitter, Facebook, Slack, or some other social media platform to brainstorm other online actions you can take.
Give Advocacy Groups Your Support
The Refugee and Immigrant Center for Education and Legal Services (RAICES), the Florence Project and Refugee Rights Project, the Texas Civil Rights Project, and the South Texas Pro Bono Asylum Representation Project (ProBAR) are just four of more than a dozen non-profit organizations working on the ground to aid migrant families torn apart at the border, whether that's providing free legal services or fighting for policy reform. Slate has an extensive list of advocacy and legal groups where you can either contribute your time or money to help continue this important work.
You can also make a financial donation to ActBlue, an online fundraising platform, which will split all funds in equal parts among eight non-profits, including the American Civil Liberties Union (ACLU) and La Union Del Pueblo Entero.
Educate Friends, Family, & Strangers
The consequences of the Trump administration's "zero tolerance" policy has dominated the news cycle over the last few weeks. But the president and his conservative cohort are still spreading misinformation about what's happening at the border, particularly when it comes to who's to blame for migrant families being ripped apart. (Answer: It's not Democrats.) Just as volunteering your time or contacting your representative is important, so is educating your family, friends, and even strangers about what's going on. Share articles, post facts, correct false assumptions, call people out on their latent racism... whatever you can do to make people understand the gravity of the situation, do it.
Make no mistake: Trump's recent border crackdown is the reason why families are being separated at the border. It's not because of the actions of Democrats currently in office, as he so likes to claim. It's his administration's "zero tolerance" policy that are splitting migrant children from their parents, and it's his administration that has the power to make it stop.