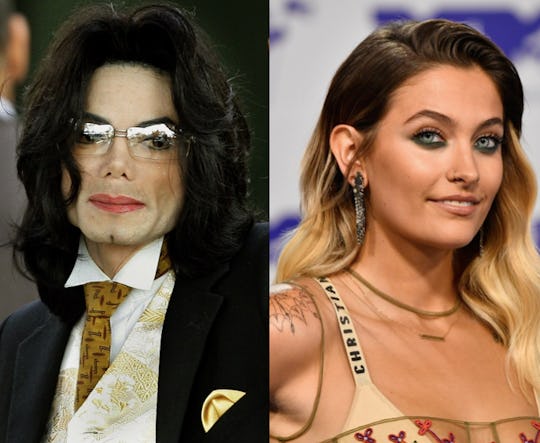 Frazer Harrison/Getty Images Entertainment/Getty Images TIMOTHY A. CLARY/AFP/Getty Images
Paris Jackson Remembers Her Late Dad In This Touching Birthday Tribute
Paris Jackson was only 11 years old when her father, King of Pop Michael Jackson died in 2009. To lose a parent at any age is traumatic, but to lose your father so young with so much ahead of you... it was a tragedy that clearly shaped the way the teen model looks at her life. Especially considering what a positive influence her father was to her in the years they had together. And on what would have been his 59th birthday, Paris Jackson penned a touching tribute to her dad and it says so much about the loving relationship they shared.
The pop icon died on June 25, 2009 from propofol and benzodiazepine intoxication. He left behind an enduring musical legacy, and three children who adored him: 20-year-old Michael Joseph Jackson Jr. (nicknamed "Prince"), 19-year-old Paris, and 15-year-old Prince Michael Jackson (whose nickname is "Blanket"). In the years since his death, his children have grown into young adults, but that doesn't meant they've forgotten their father and the lesson he taught them.
To commemorate Jackson's birthday on Tuesday, the 19-year-old Jackson shared a sweet picture of herself as a little girl kissing her father. She captioned the photo:
birthday wishes to the love of my life, the one person who showed me what passion truly was, the one that gave me solid morals to live by and how to dream. i will never feel love again the way i did with you. you are always with me and i am always with you. though i am not you, and you are not me, i know with all of my being that we are one. and our souls will never change in that way. thank you for the magic, forever and always.
While each of Jackson's three children have honored his memory in their own way (Prince is a record producer, while youngest son Blanket, like his siblings, reportedly "lives like Michael is constantly looking down upon them," as a source told People), his daughter has perhaps been the most outspoken about her relationship with her father. In an interview with Rolling Stone in January, she talked about living with the loss of her father:
They always say, "time heals." But it really doesn't. You just get used to it. I live life with the mentality of, "OK, I lost the only thing that has ever been important to me." So going forward, anything bad that happens can't be nearly as bad as what happened before. So I can handle it. I feel him with me all the time.
Paris has also taken permanent steps to ensure she feels the presence of her father with her always; she has several tattoos related to the pop legend, including a recent addition of "Apple Head," the name she and her brothers jokingly called their father, emblazoned on the top of her foot.
While Paris obviously misses her father every day, her older brother Prince told Rolling Stone that she embodies everything about the "Thriller" star:
Basically, as a person, she is who my dad is. The only thing that's different would be her age and her gender. [Paris is similar to Michael] in all of her strengths, and almost all of her weaknesses as well. She's very passionate. She is very emotional to the point where she can let emotion cloud her judgment.
Carrying on after her father as a passionate, sensitive, loving human being is just about the best tribute Paris could pay to her father — and she's pulling it off in spades.