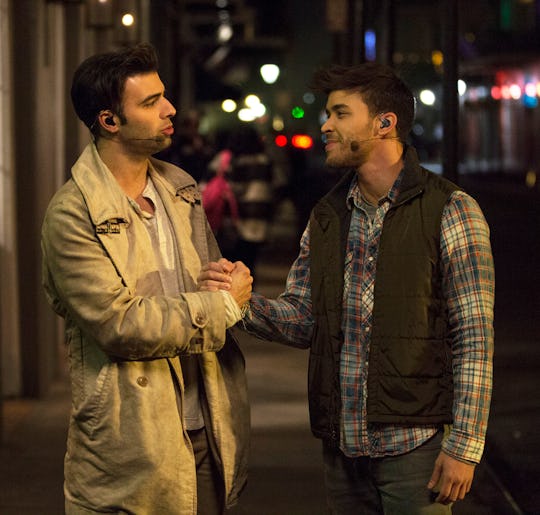 Michael Becker/FOX
'Passion' Viewers Think Jesus & Peter Are Hot, So Jencarlos Canela & Prince Royce Were Good Choices
While it may be a little sinful, I think it's worth forgiving: The Passion viewers think Jesus and Peter are hot, so obviously Fox made a good decision casting Jencarlos Canela and Prince Royce for the parts. While many on Twitter were snarking about the contemporary version of the stations of the cross, the one highlight of the evening was that the disciples were some good eye candy. And they totally are. But are you allowed to say that? Viewers on Twitter were torn about whether to feel conflicted about the fact that they were drooling over Jesus, especially given the way his night was going, you know?
It's a bit of a biblical quandary, really. It would be easier to get into the serious nature of the whole thing if the disciples just weren't so darn dreamy. I mean, even Judas (played by Chris Daughtry) was looking good while singing "Bring Me To Life" and he's kind of the bad guy. Bring me to life, indeed, sir. For many viewers, Canela and Royce might not be household names. They are both American pop stars, but their songs are in Spanish, so lots of English-speaking viewers had their minds blown on Sunday night. If you were having unholy thoughts about the son of God, you were not alone. Here's how Twitter was handling the hotness.
Team Jesus
Team Peter
Hoping Jesus & Peter Hook Up
Feeling Guilty About It All
But Really, Team Jesus
It can't be a total sin in this day and age to think the disciples are super cute. You can always go to confession this week, right?