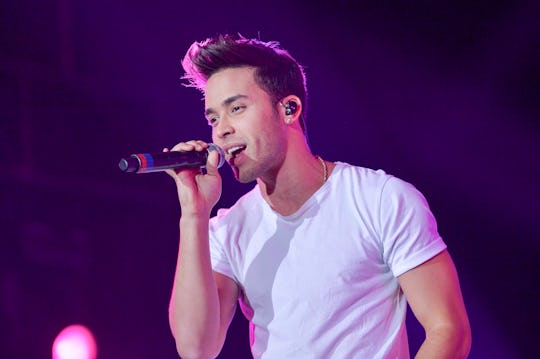 Rodrigo Varela/Getty Images Entertainment/Getty Images
Who Is Prince Royce Dating? 'The Passion' Star May Be Dating His Music Video Co-Star
If you're not familiar with who Prince Royce is, you are about to become familiar with him after this weekend. The Latin Billboard award-winning singer is slated to star in Fox and Tyler Perry's live musical event on Sunday called The Passion. Royce will be playing Peter in the musical. After the show on Sunday, the singer is bound to blow up more than he already has and might lead many people to ask, who is Prince Royce dating? Though Instagram and fans may tell us one thing, the star himself hasn't said a word — despite some very flirtatious social media posts.
The 26-year-old singer from Bronx, New York is a huge star in the Latin music community. You might remember Royce when he toured with Ariana Grande on her Honeymoon Tour in March of last year. Royce has recently topped the Latin Airplay Chart with single "Corazon Sin Cara," but has not really had an outbreak success in North America. That is going to change pretty soon.
But, with such a busy schedule and successful career, it might be hard for Royce to find the time to date someone. Even though the star has never confirmed anything, his public flirtations with Emeraude Tobia and their music video might say otherwise.
While Royce's Instagram account is full of selfies and professional shots of the singer, if you look close enough, you can find references to his rumored girlfriend and Shadow Hunters: Mortal Instruments star, Tobia. Royce posted this picture nine weeks ago with a poster of Tobia on his Instagram account with the caption "Just ran into @emeraudetobia" and followed it one week later with this photo congratulating her on the premiere of her show.
Seems a little fishy, huh? According to the website, whodatedwho.com, the two may have dated at one point, but there is no official word from either camp on confirmation of whether or not they're still together or even dated in the first place.
The two also went as dates to the 2015 Latin Grammy Awards this past November, where they looked amazing together. Seriously amazing.
"...talk about my handsome date" Tobia wrote in the caption of the Instagram she posted of the two at the awards. Right? How good do they look together?
In an interview with Latina Magazine, Tobia was asked about her relationship with Royce. She wouldn't confirm that they were dating but said great things about him. Tobia said of Royce:
He's a guy that I admire so much. He's someone that fights for his dreams, and that keeps fighting. I like to surround myself with people that have dreams and that fight for them every day. I think he's a big role model for young girls and young guys. I think his career has been impeccable and I love his music. He's a guy that I've known for so long and really care about him and appreciate what he's done.
Wow. Sounds like a glowing endorsement for someone who is definitely not dating that person. I don't think I spoke that highly of my own ex-boyfriends even when I was madly in love with them.
All jokes aside, check out this music video for Royce's song "Corazon Sin Cara" costarring Tobia and determine for yourself whether or not they're really dating.
Alright Tobia, you continue to deny those dating rumors and I'll continue to watch this music video.