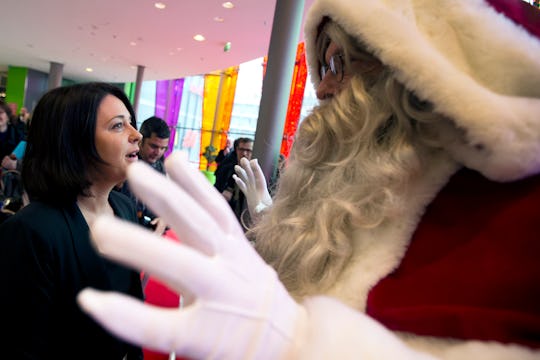 JOEL SAGET/AFP/Getty Images
Pastor Tells Kids There's No Santa, & Parents Aren't Impressed
The year my youngest son stopped believing in Santa Claus was the worst Christmas ever. Gone was the magic, the mystery, the concept of completely unselfish love. If it hadn't been for wine... I don't know what I would have done. And my son figured it out on his own; I can't imagine how the parents whose kids were told by a pastor that there's no Santa Claus must feel. Yes I can; enraged. I bet they're feeling enraged.
David Grisham, a pastor from the Repent Amarillo and Last Frontier Evangelism, visited Amarillo's Westgate Mall to tell children waiting in line to visit Santa that there is no such thing as Santa. That's right; Grisham is telling little children, all of whom are anxiously awaiting their turn to tell Santa what they want for Christmas, that the man they are going to see is "just a man in a suit" and that there is no Santa. I honestly can't even. Grisham filmed himself yelling at the dumbfounded parents and children:
Kids, I want to tell you today that there is no such thing as Santa Claus. The Christmas season is about Jesus. Jesus was born 2016 years ago. He was born in a manger in a small town called Bethlehem. And that's the truth about Christmas.
In a video he proudly shared on his Facebook page, which has since been viewed almost three million times, Grisham can be heard saying:
The man you're going to see today is just a man in a suit, dressed up like Santa, but Santa does not exist. Santa's not real. And parents you all need to stop lying to your children and telling them that Santa Claus is real when in fact he's not.
One parent became justifiably upset and asked Grisham to leave, telling him:
Quit talking this mess, you understand me? I've got my kids over there, we don't need you coming over here blabbing whatever it is you're blabbing.
Grisham told CBS 11 that he plans to take his Santa-hating show on the road, and would like to visit other malls in the area before Christmas. The malls he plans to visit are preparing for just such an occasion. A spokesperson from Hulen Mall in the Dallas Fort Worth area told CBS 11:
If someone is causing a disruption, they will first be asked to stop and eventually asked to leave.
Grisham is apparently concerned that Santa Claus is proving too much competition for Jesus in the battle to get the attention of small children at Christmas. Fort Worth resident Susan Metzger disagrees. She told CBS 11:
I'm pretty big into Jesus myself but I manage to find room for Santa Claus, too.
I hope the kids standing in line for Santa were smart enough to ignore the crazy man shouting foolishness at them. I hope they still get to believe in magic, that they fall asleep on Christmas Eve so excited for the morning they just can't stand it.
Who would want to take that away from a child?