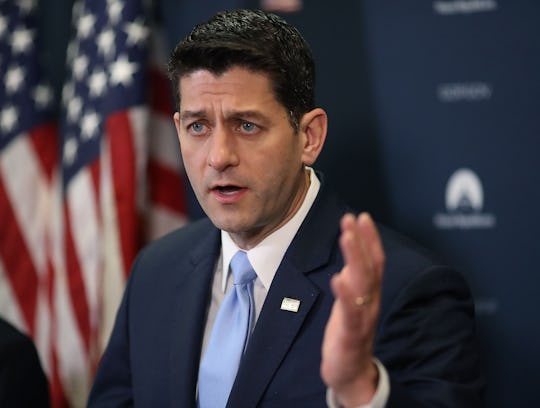 Mark Wilson/Getty Images News/Getty Images
Paul Ryan Accidentally Says He Has The Honor Of "Preventing" The President At SOTU, & Twitter Loved It
Tuesday saw the first State of the Union address of President Donald Trump. It was naturally an auspicious occasion, with the entire country glued to their screens to find out what the president had to say about the arguably difficult last year. Speaker of the House Paul Ryan had the honor of introducing the president and, well, he didn't totally nail it. Ryan accidentally said he was "preventing" the president at the State of the Union, but have no fear: Twitter couldn't have loved it more.
Admittedly, Ryan had to be nervous. Randy Bryce, the iron worker and union organizer who is going after Ryan's job, was in attendance in the House of Congress as the guest of Wisconsin Rep. Mark Pocan. It might be even harder to perform when a decent amount of individuals in the audience, including people watching on their screens at home, want you to fail. So when Ryan slipped up and said he was "preventing" the president, rather than "presenting" him, it was an understandable slip.
But that doesn't mean people can't laugh at it now, does it? I mean, come on. This is the internet, people. Twitter was aflame with great jokes about Ryan's sort of hilarious slip. If only we could take it literally... sigh.
Some savvy Twitter users wondered if this was something of a Freudian slip; after all, Ryan and Trump have notably struggled to come to terms with their power dynamics in the past. As Speaker of the House, Ryan has a significant amount of power... could he want a little more? Does he actual want to "prevent" the president?
For the most part, however, social media users were just happy to see Ryan slip. On account of his smug, smug face. Maybe.
Ryan isn't exactly the most popular politician these days (although to be fair, I'm hard pressed to remember a time when the politician from Wisconsin was wildly popular). The Speaker of the House crashed and burned on his attempts to repeal and replace the Affordable Care Act in 2017, and continues to struggle against critics who contend that he needs to challenge the president more frequently as one of the top three most powerful politicians in the country.
During Trump's State of the Union address before Congress on Tuesday, the president invoked the name of God more than once. While Ryan, a devout Christian, sat quietly behind Trump during most of his speech, politely clapping while looking preternaturally serene, Ryan did eventually become quite animated. At one point, when Trump brought up "In God We Trust," a topic clearly near and dear to Ryan's heart, Ryan pointed up at the sky (presumably to God), as though he needed to instruct the audience where his favorite guy was residing.
And Twitter loved roasting Ryan all over again.
On Wednesday morning, Speaker of the House Paul Ryan will get back to business as usual in Congress. He's been busy recently, sanctioning the release of a memo regarding alleged FBI abuse of surveillance tactics authored by House Intelligence Chairman Devin Nunes. Then there's the whole tax reform issue he's going to be busy contending with, not to mention those pesky rumors that he might be leaving office at the end of 2018 and the specter of his Democratic challenger bearing down on him at every turn.
Ryan can deal with all of that tomorrow. For now he can either rejoice or despair at his short-lived Twitter fame of Tuesday night. When he managed to make news simply by pointing and switching out one letter in a word. This, my friends, is the beauty of social media. I hope Paul Ryan is enjoying this moment as much as I am.
Check out Romper's new video series, Romper's Doula Diaries:
Watch full episodes of Romper's Doula Diaries on Facebook Watch.