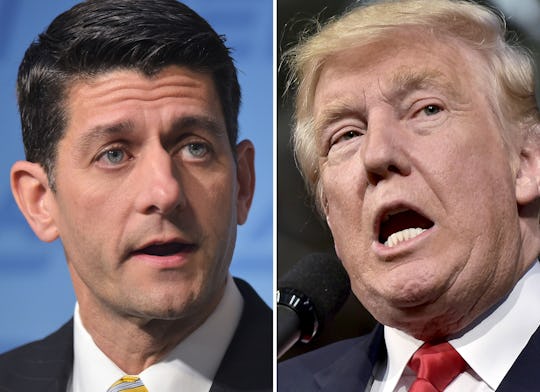 AFP/AFP/Getty Images
Paul Ryan Voted For Donald Trump Already & Twitter Is Ready To Hold Him Accountable
House Speaker Paul Ryan has a real case of the frenemies going on with Republican presidential nominee Donald Trump. On the one hand, he's been incredibly public with his criticism of Trump and basically every foolish, racist, sexist thing the man says. On the other hand... he voted for him anyhow. While the whole exchange reminds me of that year in grade five when my best friend and I carried on a tumultuous love/hate thing, social media is having none of it. Paul Ryan already voted for Donald Trump, and Twitter is already experiencing some (unsurprisingly) strong feelings about it.
Ryan has spent the last few months informally renouncing Donald Trump and the horrific vitriol that seems to spew, unbidden, from his mouth whenever it happens to be open (which is all the time), but continuing to back him politically in the presidential election. Back in August, when Trump famously made a super hilarious joke about how the "Second Amendment" people could do a little something about Democratic nominee Hillary Clinton to keep her from nominating a new Supreme Court justice (noting, "If she gets to pick her judges ― nothing you can do, folks. Although, the Second Amendment people. Maybe there is. I don't know"), Ryan responded by saying;
I hope he clears it up very quickly. You should never joke about something like that.
Trump never cleared it up, of course.
A few months later, after Trump's now-infamous Access Hollywood hot-mic tape was released (in which Trump could be heard joking about "grab[bing women] by the pussy" and making sexual advances on women without their consent), Ryan seemed totally finished with the Republican nominee, canceling a rally appearance the two were meant to hold together in Wisconsin that week, and writing in a statement,
I am sickened by what I heard today. Women are to be championed and revered, not objectified. I hope Mr. Trump treats this situation with the seriousness it deserves and works to demonstrate to the country that he has greater respect for women than this clip suggests. In the meantime, he is no longer attending tomorrow's event in Wisconsin.
And yet, once again, Ryan failed to retract his official endorsement of the candidate.
Regardless of all the times Ryan has seemingly been ready to throw in the towel, he told Fox News this week that he has already voted for Trump. "I stand where I've stood all fall and all summer," he said. "In fact I already voted here in Janesville for our nominee last week in early voting. We need to support our entire Republican ticket."
While Ryan might have conveniently forgotten the months he has spent calling Trump a racist (when Trump claimed Judge Gonzalo Curiel should not preside over the Trump University lawsuit because of his Mexican heritage), an anti-Semite (Trump shared a picture on Twitter of Hillary Clinton with a Star of David that was later revealed to have been planted by White Supremacists), and most recently, when the Trump Tapes were released, telling fellow Republicans he would simply no longer defend Trump, Twitter has not forgotten.
Sure, Ryan has made it abundantly clear that he has genuine concerns about Trump, but he has always pulled back just shy of saying he would not vote for him, most likely because of pressure within the party to toe the line. Republican Rep. Jim Bridenstine of Oklahoma told MSNBC just a few weeks ago:
Given the stakes of this election, if Paul Ryan isn't for Trump, then I'm not for Paul Ryan.
The problem: Ryan could very well lose his own career along the way. But people are sick of all the vacillating (Trump bad? Trump good?) and more than ready to take to Twitter to let Ryan know they're not happy that he appears to be choosing partisanship over patriotism:
So why is Ryan voting for Trump despite the months of criticizing him and distancing himself from him? To avoid a Clinton presidency, apparently. Ryan told Fox News that he did not want another Clinton administration to happen because,
This is what life with the Clintons looks like … it's always one scandal after another. You never know what's coming next.
Whereas a Trump presidency is certain to run as smooth as butter, I'm sure.