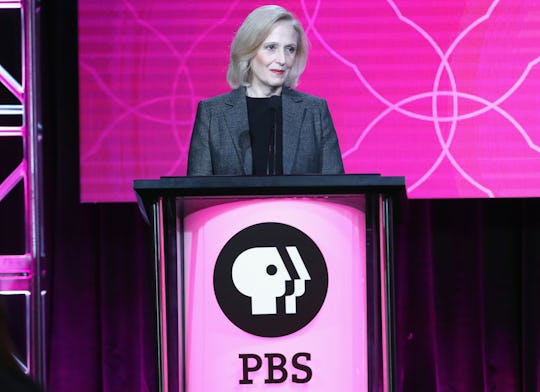 Frederick M. Brown/Getty Images Entertainment/Getty Images
PBS President Says Funding Cuts Will Affect Kids
On Thursday, President Donald Trump unveiled his preliminary budget proposal for 2018, and it's a doozy. Trump has proposed eliminating federal funding from nearly two dozen major government agencies in favor of allocating their funds to pay for Trump's proposed $54 billion boost in defense spending. Of those agencies affected, Trump's budget proposal would eliminate all funding for the Corporation for Public Broadcasting. The president of PBS made a compelling argument for how cutting funding to the CPB and PBS hurts children especially.
Responding to Trump's proposed cuts to public television, PBS President and CEO Paula Kerger said in a statement Thursday that "the cost of public broadcasting is small, only $1.35 per citizen per year." Speaking to The Hollywood Reporter, Kerger emphasized that the cost to individual taxpayers is "less than a cup of coffee" every year. Her statement continued by noting the real-world benefits that are a direct result of American public television.
...the benefits are tangible: increasing school readiness for kids 2-8, support for teachers and homeschoolers, lifelong learning, public safety communications and civil discourse.
PBS provides more than just reruns of Downton Abbey and new episodes of Call The Midwife — it has a 46-year legacy that has turned the its television service into "America's largest classroom."
This isn't just about defunding Big Bird: PBS Kids boasts that is has been rated the top children's media education brand, compared to other children's programming on channels like Sprout or Disney Jr in a January survey. While the early success of children's programming on PBS may have started with shows like Sesame Street and Mister Rogers' Neighborhood, the channel now provides kids with more than 30 different educational shows on subjects ranging from reading and literacy, to math, science, and the arts.
Meanwhile, PBS LearningMedia — another education initiative and extension of the PBS brand — provides more than 100,000 digital tools to educators across the country. Research by PBS LearningMedia revealed that classrooms using PBS LearningMedia digital tools scored 10 percentage points higher on national assessments, compared to classrooms that didn't utilize those same resources.
Kerger's statement appears to allude to a host of values and benefits that the Trump Administration seems to be against — such as school readiness and support for teachers and homeschoolers. Case in point: appointing Betsy DeVos as education secretary, and her department's school choice bill — H.R. 610 — that will fundamentally reshape the future of American public education into something that favors profits over students's needs. As for the lifelong learning that Kerger mentions, Trump wants to axe that for Americans, too: See the H.R. 899, the bill that would eliminate the Department of Education.
In addition to cutting funds from public television, Trump's plans to eliminate the National Endowment for the Arts would also cut all federal funding for National Public Radio — despite the fact that NPR ratings are at an all-time high. In addition, The Nation pointed out that cutting funding for PBS and NPR would actually hurt many Trump voters:
Trump is actually attacking the stations that serve many of the parts of the country that supported him last November. And he is attacking what polls have shown to be the most trusted—and cherished—sources of information for rural and urban America. That trust is reflected in popular support for the fund-raising drives of public broadcasting stations; but pledge drives are not enough. Without CPB grants, stations that serve remote regions, regions that are home to historically dispossessed peoples and regions where incomes are low will struggle to stay on the air.
Instead of simply making modest reductions to the CPB, it appears as though he's willing to just pull the plug entirely on public television — all over the cost of a cup of coffee for every American each year.