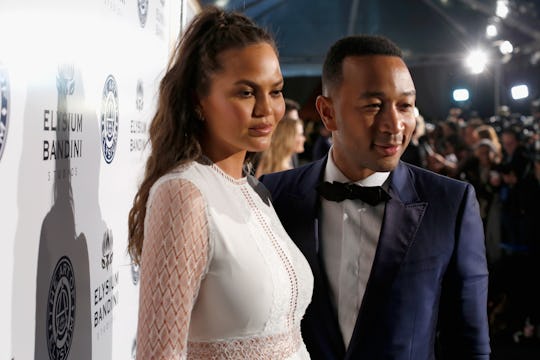 Randy Shropshire/Getty Images Entertainment/Getty Images
Shaming Chrissy Teigen For Family Alcoholism Won't Make Her A "Better" Mom
Being a celebrity comes with stardom, fame, and opportunities of which most people only dream — but there all the awful pitfalls that each of these opportunities can bring, too. From dodging paparazzi to a near endless stream of internet trolling, there is definitely a price that comes with being a celebrity. Late Monday night, Chrissy Teigen tweeted heartbreaking attacks related to a Cosmopolitan interview she did this week where she said she needed to cut back on her drinking. "I have to fix myself," she said.
"I dunno how you can be this mean," Teigen tweeted alongside two screenshots of horrible comments from anonymous commenters from an unidentified online forum. In addition to attacking Teigen's drinking, the comments attack everything from how she built her family with IVF, to how she shouldn't comment on politics, to suggesting she's probably "faking" her postpartum depression. Seriously: Who does something like this?
Teigen's candor on social media is one of the many qualities that make her such an interesting and truly refreshing celebrity to follow online. She's also been incredibly open with the media about some of the most personal, sensitive aspects of her life. Teigen has helped to tear down stigmas and yet, there are plenty of people who've never met her or know nothing about her beyond what they read who are willing to cut her down for her bravery — and it's shameful.
Thankfully, Teigen has received an outpouring of support from fellow celebrities and fans alike. Actress Emmy Rossum tweeted back, "Hiding behind a computer screen makes it easy. Don't read those. I support you!!!" while Cher tweeted, "Cuz they're miserable people with pathetic lives that need to cut down ppl online to feel better about themselves? Just a guess."
Of all the comments of support and love, it was author Jenny Han's tweet that really stood out for me in terms of its compassion and empathy.
But it's Han's tweet that points out the fundamental issue at the heart of these attacks on Teigen: that people felt the need to make these comments about Teigen — or any celebrity, for that matter — in the first place. As Jamie Grayson noted in his tweet above, not one of these people would have the guts to say any of this to her face. While it's easy to argue that celebrities like Teigen should understand that these cruel comments and attacks are a part of just being a celebrity, she is in no way deserving of them.
As her Cosmopolitan interview revealed this week, Teigen is struggling: Between postpartum depression, a history of alcohol abuse in her family that she's trying her hardest to outrun, and getting ready to start IVF again, she has a lot on her plate at the moment. What Teigen needs now is love, support, and compassion — not anonymous internet cruelty.