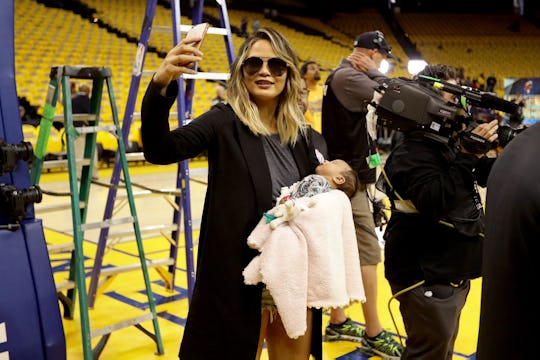 Ezra Shaw/Getty Images Entertainment/Getty Images
Tweets That Prove Chrissy Teigen Is An Amazing Mother
Even before their daughter was born, the model-musician power couple of Chrissy Teigen and John Legend had garnered plenty of attention on their quest to become parents. After revealing that they not only needed IVF to get pregnant, but used gender selection to transfer only female embryos, the pair received a ton of unnecessary flak. Once baby Luna Simone arrived on April 14, the wave of haters couldn't resist mom-shaming Teigen when the couple was spotted out to dinner sans-Luna only one week after she was born. Despite all the hate, there are a ton of tweets that prove Chrissy Teigen is an amazing mother.
Teigen is no stranger to social media. She boasted an active, engaged following on Twitter, Instagram, and Snapchat well before she got pregnant, and has only upped her social media game that much more now that she's become a mom, including sharing cute photos of baby Luna all the time. It's obvious that not only is Teigen one proud mama, but that she embraces new motherhood with a refreshing level of candid optimism — despite all the weirdness, messes, and sleepless nights that come with it in the early days of parenting a newborn. Teigen's Twitter feed is especially entertaining to follow: Pretty much any mom on Twitter can relate to her stone-cold yet hilarious delivery of quips and observations about motherhood.
Postpartum Pleasantries
As every new mom knows, those first few days postpartum are kind of a crazy blur of trying to keep this newborn child of yours both alive and fed, all while trying to keep up a body that's flooded with hormones and post-delivery weirdness. Teigen had no problem keepin' it real.
Mom's Night Out
The internet outrage was strong and swift after photos showed Teigen and Legend out to dinner while 2-week-old Luna was home with a sitter. Teigen handled the whole thing with a level of almost effortless grace — and her husband backed her up with an awesomely supportive response of his own:
Be still my little feminist heart — as if I wasn't swooning hard enough for Legend already...
That One Time She Almost Brought A Fake Baby To An NBA Game
Last Thursday, Teigen set the perfect bait to trap a whole host of Twitter concern trolls who were more than keen to find yet another reason to mom-shame her by planning to bring a fake baby to the first game of the NBA finals. While her Twitter trolling plans didn't work out, that is some Twitter trolling of the highest caliber: Genius.
Contemplating The Existential Crisis Of The Giving Tree
I think Teigen needs to start her own YouTube series reviewing and commentating on classic children's books. I would watch the crap out of that, wouldn't you? Seriously, Chrissy: You're an amazing mom. Forget the haters and keep your hysterical #MomLife tweets coming.