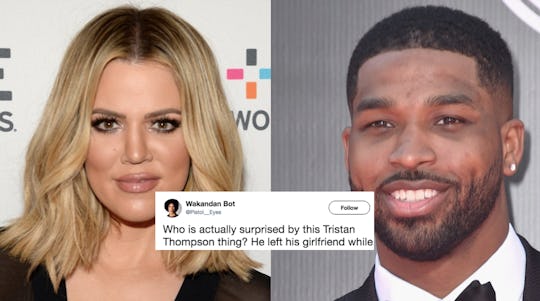 Chris Weeks/Getty Images Entertainment/Getty Images/ Alberto E. Rodriguez/Getty Images Entertainment/Getty Images/ Twitter
People Are Blaming Khloé Kardashian For Tristan Thompson's Alleged Cheating & It's So Wrong
Some Keeping Up With The Kardashian fans had some major FOMO when Kylie Jenner and Khloé Kardashian didn't confirm their pregnancies right away. But once the sisters did finally confirm their good news many months later, it became clear why they had kept it a secret for so long. Because people are awful. Just days before she's due to give birth to her first child, people are blaming Khloé Kardashian for Tristan Thompson allegedly cheating on her, as various reports have claimed. No wonder they might have wanted to keep things private in the first place.
Over the weekend, The Daily Mail reported that Tristan Thompson was at a club in Manhattan with another woman and that they allegedly kissed. Romper's requests for comment from Thompson and Kardashian's team were not immediately returned. An unnamed club goer sent the tabloid a video of Thompson reportedly dancing close to an unnamed woman and allegedly kissing her. Almost immediately, social media was rife with people blaming Khloé for her boyfriend allegedly "cheating" on her
Of course, these rumors circulating online right now would not be great news to receive, if you were Khloé at home in Cleveland, nine months pregnant. But it's also not Khloé's problem, much like it wasn't Jordan Craig's problem when Tristan first met Khloé last summer. The response on social media has focused on how it might be the women's fault that they were "cheated on" and should have known it was coming. But that's not really fair.
By the way — no one, but just the parties involved, knows whether or not Tristan allegedly cheated on "them." Already, we've relegated the super awesome women, Jordan Craig and Khloé Kardashian, to one silly pronoun: Them. Both women, most likely, played an active role in their relationship with Tristan Thompson and it says nothing about their character if things didn't go just as people might have planned. Everyone is an adult here.
For what it's worth, Thompson is the one navigating two relationships and (almost) two children, whether or not the rumors are true. Maybe he's the one people should be hounding on social media instead of his ex and current girlfriend. It wasn't Craig's fault that he started dating Khloé, and it wasn't Kardashian's fault for getting into a relationship that might not be as impenetrable as she thinks it is.
It's exhausting that people keep pointing our fingers at women for falling for possibly flawed men, as if there's some special power women have that can protect them from heartbreak and shame. Instead, people just decide the woman has pain and suffering coming for her, no matter what she does or how much effort she puts into "doing things right." Especially if she's famous, especially if she's a mom.
I get it. Khloé met Thompson while he was still with Craig, who had his son, according to BET. And Khloé has not been very open about Tristan's past on her family's show and hasn't publicly acknowledged his other child. That's a fair criticism. But that doesn't mean she deserves to be trashed in the media when her boyfriend allegedly kisses another woman in public.
Also, just because it wasn't aired on E! doesn't mean that the couple and Craig haven't talked about things, like custody agreements or anything else about how they're going to raise their kids, privately. It certainly doesn't mean that it's Khloé's "bad karma" if the father of her child was allegedly unfaithful to her at a New York City club in full view of hundreds of iPhones. Let's talk about Thompson needing some lessons on how to be respectful instead of how Khloé, who by all accounts is nesting in Cleveland "should have known better."
Tristan Thompson is a grown man and can be held responsible for his children, his relationships, and any action that has to do with all of those things, and more. Blaming Khloé for his alleged "cheating" on either end is just bad form. Women, even a woman with a wealthy family and some fame, isn't at fault for a man's alleged bad behavior. Blaming Khloé, and Craig, for Thompson's alleged infidelities is just misguided.