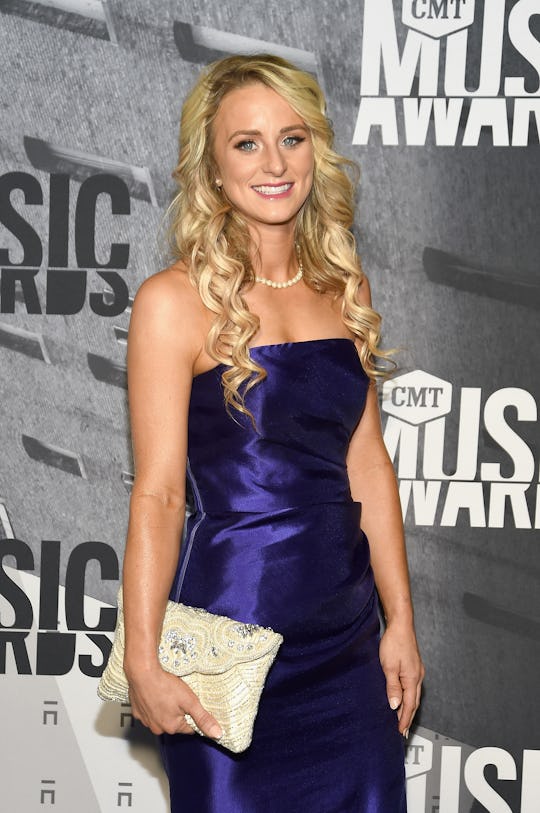 Rick Diamond/Getty Images Entertainment/Getty Images
People Are Body-Shaming Leah Messer's Daughter, & It's Infuriating
It's not uncommon for fans to wonder why some celebrities choose to keep their children off of social media. Sharing photos of your kids with people who care about you can be rewarding, after all, and there's nothing wrong with wanting to show off your child to the world. What most fans tend to overlook, however, is the prevalence of online harassment when it comes to kids in the public eye. And someone who understands the harsh realities of online bullying all too well is Teen Mom 2 star Leah Messer. In a sad turn of events on Wednesday, Leah Messer's 8-year-old daughter was body-shamed on Instagram by countless commenters. Although it's never OK to body-shame, this particular incident is especially heartbreaking because Messer's daughter has a rare form of muscular dystrophy. Needless to say, this upsetting incident is further proof that people need to be kinder on social media.
Now that summer is officially in session, Messer is taking full advantage of the warmer weather with her three daughters — Ali, 8, Gracie, 8, and Addie, 5. And on Wednesday, Messer and her girls enjoyed an outing to a waterpark in their hometown of West Virginia. "Everything I am, they've helped me to be! #aaa #girls #summertime," Messer captioned a shot on Instagram of her kids posing in swimsuits.
Although one would think the cute photo (I especially love Addie's pose) would inspire nothing but positive comments, some people felt justified to attack Ali's looks. Absolutely terrible, right?
One commenter fat-shamed her, while someone else critiqued her for wearing a "too small bikini," according to Instagram.
Another person even went as far to mock Ali's "clubfoot."
There's no denying these comments are seriously upsetting (the commentary made me tear up) — especially when you consider Ali's muscular dystrophy diagnosis. Muscular dystrophy is a genetic disease that causes progressive muscle mass loss and other serious health problems, and Ali often struggles with her condition. From Ali asking Messer what it's like to see with "two eyes," to her feeling self-conscious about her wheelchair, it's clear the little girl has a lot on her plate. So, it's truly horrible that any person would attempt to cause more pain in her life.
Luckily, Messer's family has plenty of supporters in its corner.
"I love how they all have different personalities! Addy reminds me of my daughter full of sass," one fan penned, according to Instagram. "Aleeah reminds me of myself bossy big sister. Ali has a kind heart! Good job momma."
Another commenter chimed in:
Continue doing what you are doing. As a mom with kids and one with a disability not only is the child strong but it makes us moms 10x as strong for our babies. I love watching you grow and mature and your girls turn into beautiful young strong independent women.
"My god this photo sums them up perfect," another person wrote. "Love watching your girls @leahdawn92mtv. They are just awesome and so real it's lovely to see them grown."
All of the positive comments in response to Messer's photo demonstrates how social media can be a powerful tool for good. Through Instagram, Messer has the opportunity to connect with fellow parents of children with disabilities, and Ali can receive words of encouragement from fans. It's just unfortunate some people feel compelled to knock others down with hurtful and offensive comments — especially where it concerns kids. Hopefully, social media platforms will do more to combat online bullying going forward, and those who feel compelled to hate on strangers will keep their comments to themselves.