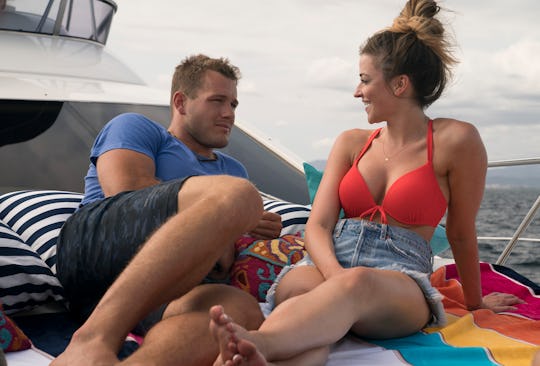 Paul Hebert/ABC
'Bachelor In Paradise' Fans Think Colton Could Be The Next Dean
Bachelor in Paradise is about finding love, but sometimes it also means falling for more than one person. Hey, it happens. How the different contestants go about handling it is a whole other matter. Dean Unglert, for example, caught a lot of heat for seemingly playing two women at once last season on the show. Now, fans are calling Colton the new Dean of Bachelor in Paradise. But first, a little background on the whole Dean saga. While he may have had pure intentions initially, the two women he dated simultaneously were heartbroken by how he treated them throughout the season.
Dean and Kristina Schulman made an almost instant connection on BIP Season 4 and all seemed well for the new couple. Not long after, however, Danielle Lombard showed up and definitely turned Dean's head. He decided to pursue Danielle and seemed to want to keep his Paradise options open. He wound up going back to Kristina and then back to Danielle, and so on for some time before both women realized what was happening.
Colton isn't doing that with Tia on BIP exactly, but viewers are already seeing some warning signs. On Monday's episode, he told Tia outright that he wants to keep his options open and potentially pursue other women on the show. I do applaud the guy for his honesty, but I can't help but feel a little icky about his apparent desire to keep Tia on the back burner while he tries things out with other women. At least, that's what it looks like.
In Dean's case, there was obviously a lot of uncertainty on his part and for most of Season 4 of BIP, he went back and forth between the two women. And even months after the show ended Dean seemed to continue to waver between Kristina and Danielle. At the moment, it doesn't look like Colton is deciding between two women the way that Dean did. But since Tia made it pretty clear that she only went to Paradise for Colton, he considers her a sure thing while he is free to pursue other relationships. Hence, the Dean comparisons.
When Colton first arrived on BIP, he didn't take Tia aside first as she anticipated, or even show real interest in her for the first few minutes. Considering the fact that the two had history before the show, she was expecting some particular attention from him. After talking to another prospective partner, he finally spoke to Tia and asked to take her on a date. While the date appeared to go well, he afterwards admitted to some of the other men that he planned to keep his options open and pursue other women besides Tia. Meanwhile Tia told her girlfriends that she wanted to go all in with Colton. Yikes.
Before the first rose ceremony this season, Colton admitted to Tia that he wanted to see who else he might have a romantic connection with and she called him out on it. Tia told Colton she wasn't going to be anyone's second choice, and that she was under no circumstances going to give him her rose. Basically, it looks like Tia refuses to be the Kristina to Colton's Dean.
There's plenty of time for him to do a 180 and right his wrongs with Tia, but there's also no guarantee that Colton will get the chance to stick around long enough to do that.