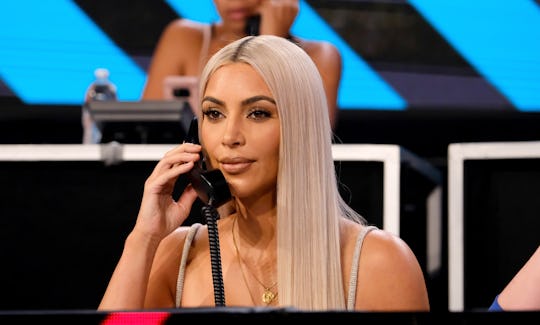 Kevin Mazur/One Voice: Somos Live!/Getty Images Entertainment/Getty Images
People Are Criticizing Kim Kardashian For Naming Her Daughter Chicago & It's Rude AF
If there's one thing that gets people all up in arms, it's unique baby names. Add in the fact that a celebrity is the one choosing an original moniker and you have some bona fide "experts" sharing everything they know about naming children. When Kim Kardashian West revealed the name of her third child today, immediately the critics were out. People are criticizing Kim Kardashian for naming her daughter Chicago and honestly, it's rude AF.
I find baby names to be supremely personal and I know I'm not alone. In a Parents article on choosing your baby, the website noted that when you pick your little one's name, it says a lot more about your personality than your baby's. I mean, you have no idea who your kid is going to grow up to be, but if you love classic, simple names like Mary or George, it shows that you're one for timeless, vintage magic. But you guys — Kim Kardashian West is ... well, she's Kim Kardashian West. The name Chicago makes me think of a lot of things — music, lights, flashiness — but it also sounds like home, Americana, a place to be proud of.
And to Kim, it just sounds like her baby. But a lot of the world really doesn't care about the sentiment Kim might have with the name (or place) Chicago. Instead, they're collectively turning their noses up, ready to shout "How's she going to get a job with that stupid name?" and "You just bought your kid a lifetime of being made fun of."
Their collective dragging of the Kardashian-West family for a "weird" name isn't new. People face this kind of criticism every day. Whether you're Gwyneth Paltrow naming your baby Apple or a mom in the suburbs of small town Georgia naming her child Princess, there's bound to be someone who has an issue with your name. Back in 2015, The Huffington Post reported that Raven-Symoné, well known for her Cosby Show and That's So Raven fame and former The View co-hosting gig, claimed on The View that she would never hire someone with a "black-sounding name."
Insert all the eye rolls here.
Her argument, basically, can be surmised as one that a lot of people use to hate on someone's baby name. Raven-Symoné said, "I'm not going to hire you if your name is Watermelondrea. That's just not going to happen. I'm not going to hire you," as if someone's name tells you everything you need to know about their personality, their work ethic, their professionalism, their creativity, their skills, and their choices in life.
Now Kim's haters are saying the same thing.
Although it's not like Kim and Kanye are new to this criticism over baby names. USA Today reported back in 2013 that while people were speculating about why the couple just North West for the name of their oldest child, sources close to the Kardashian-West family claimed it was because north is the "highest power" and that Kim felt the baby was their "north star." You guys, I don't care what you think of their baby names — that right there is so precious it makes my heart hurt.
It goes to show that regardless of how unique a name is, Kim and Kanye aren't choosing these names out of thin air. Their children's names have meaning to them, just like every mom who names her kid Jackson or Hannah or Ava or Jazmin. They mean something incredibly important to them, whether it's an homage to a favorite place or inspired by a family member — Kim and Kanye are the same way. So despite the haters, I hope they keep loving on the name Chicago West. Maybe we'll find out more about why they choose the city-inspired (I assume) moniker, and maybe we won't. But it's not up to us. Naming your baby is as personal as it gets.
Besides, I highly doubt anyone's going to look over the resume of Chicago West in 30 years and have to judge her based on her name. She's probably going to do some dope stuff. I mean, with a name like Chicago, why wouldn't you?
Check out Romper's new video series, Romper's Doula Diaries:
Watch full episodes of Romper's Doula Diaries on Facebook Watch.