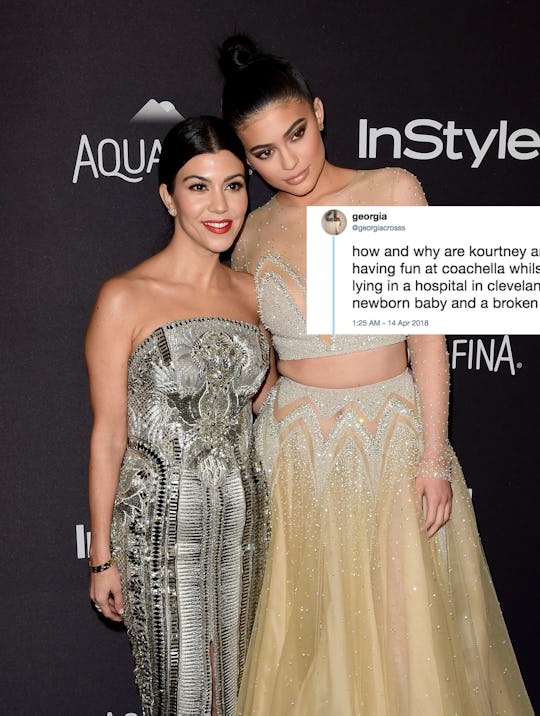 Frazer Harrison/Getty Images Entertainment/Getty Images
People Are Dragging Kourtney Kardashian & Kylie Jenner For Going To Coachella For This Ridiculous Reason
Bad news, moms; it turns out that becoming a mom means you quite literally can't do any other damn thing with your whole life. Especially if your last name happens to be Kardashian or Jenner. Then everyone gets to a piece of the judgmental pie, I guess. Because people are dragging Kourtney Kardashian and Kylie Jenner for going to Coachella, and it's super ridiculous.
There appear to be a few different reasons people are going after Kourtney and Kylie for hitting Coachella, the first of which being their sister Khloé just gave birth to her first baby, a little girl, on Thursday. Kourtney, who is herself a mom of three to 8-year-old son Mason, 5-year-old daughter Penelope, and 3-year-old son Reign, cut her family trip in Turks and Caicos short to fly to Cleveland, Ohio to be by her sister's side for the birth. Kylie was with her own baby girl, 2-month-old daughter Stormi Webster, but shared a congratulatory message on Snapchat and presumably spoke to her sister in person as well (because we don't actually have access to their private communications, guys). But gossip columnist Perez Hilton took it upon himself to call out both sister for attending Coachella on Friday.
So let's all forget that two of Khloé's sisters, Kim and Kourtney, flew to be by her side for the birth of her baby, along with momager Kris Jenner (who reportedly remains with Khloé and the baby in Cleveland). Kourtney and Kylie going to blow off some steam at Coachella alongside their boyfriends Younes Bendjima and Travis Scott is enough to call their family values into question?
Twitter seems to think so.
And not just their family values; a whole lot of people went right ahead and insinuated both women were bad mothers who weren't paying attention to their children. Because they went to a concert, where I might remind everyone Queen Bey herself will be performing (and is also a mother of three), instead of staying home.
The hypocrisy of these kinds of snap judgments about mothers really gets to me as a mom myself. Because there's a deeper implication here that in my opinion is shrouded in a cloak of sexism. Take Kourtney Kardashian, for example. She stayed home with her kids for years while her ex-partner, Scott Disick, was splashed all over the tabloids cheating on her and partying and generally displaying reprehensible behavior. While the internet did eventually slam Disick for his behavior, it was rarely looked at through the lens of his parenting. All he really has to do is pay the smallest amount of attention to his kids and all sins are forgiven. But for Kourtney, it's a different story.
Then there's 20-year-old mom Kylie Jenner, who came under fire on Friday for posting a pic of herself with pink hair on Instagram and captioning the photo "I'm not a regular mom, I'm a cool mom."
Which, by the way, is a quote from the movie Mean Girls. And speaking of mean girls... the internet really let her have it for making an innocent joke.
I was one of those moms who stayed home with her kids all the time. I barely slept, I was hyper-focused on them at all times, and you know what? It was depressing. And they don't remember a single thing about that time. So why did I do it? Because I was afraid of what people might say about me if I left my child's side for a New York minute. I was afraid people would say I was selfish, that I didn't love my kids, that I wasn't a good mom. So I sank into a lonely depression instead.
I hope Kourtney and Kylie are having a blast at Coachella. And I hope their many critics are enjoying their social media moments as sancti-mommies. Because I'm sure that's almost as much fun, right?