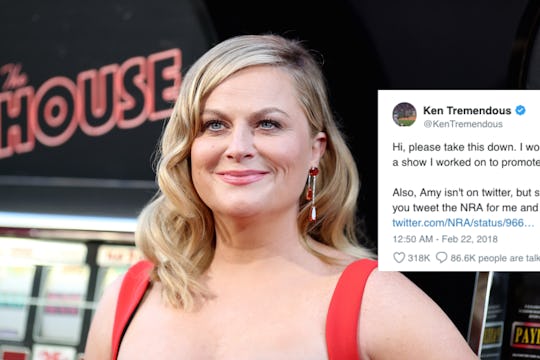 Neilson Barnard/Getty Images Entertainment/Getty Images
"People Are *Loving* Amy Poehler's Reaction To The NRA Using A 'Parks And Recreation' GIF
Not only does Parks and Recreation provide fans with a fantastic TV show to endlessly binge, but also with an arsenal of fantastic GIFs for all to enjoy. However, if you ask Amy Poehler, the show's GIFs are actually not for all. When the National Rifle Association tweeted a GIF of Poehler's character Leslie Knope, Poehler sent the NRA the perfect response by way of Parks and Recreation producer Michael Schur's Twitter account. Sadly, Poehler herself is not on social media — but when the NRA takes a Leslie Knope GIF that was meant for good and uses it for evil, you better believe Amy Poehler will find a way to do something about it (and in true Leslie Knope fashion).
"@DLoesch thank you for being the voice of over 5 Million #NRA members," the NRA's Twitter account tweeted at NRA spokesperson Dana Loesch on Wednesday night, following her appearance at CNN's town hall on gun safety. The tweet was accompanied by a GIF from Parks and Recreation, in which Leslie Knope emphatically says "Thank you."
A couple of hours later, Schur and Poehler made their opinion on the NRA's use of the GIF very clear. "Hi, please take this down. I would prefer you not use a GIF from a show I worked on to promote your pro-slaughter agenda," Schur tweeted to the NRA. "Also, Amy isn't on twitter, but she texted me a message: 'Can you tweet the NRA for me and tell them I said f*ck off?'"
Well said, Amy.
She and Schur weren't the only Parks and Recreation alumni to take notice of the NRA's tweet. Actors Adam Scott, who played Leslie's husband Ben Wyatt, and Nick Offerman, who played her boss Ron Swanson, got in on it as well.
"Hey @nra please stay the f*ck away from Leslie Knope," tweeted Adam Scott. (Gosh, if only Leslie Knope were real. You know she'd be currently living off of two hours of sleep a night so she could advocate for gun safety every possible minute.)
".@NRA @DLoesch our good-hearted show and especially our Leslie Knope represent the opposite of your pro-slaughter agenda," tweeted Offerman. "Take it down and also please eat shit. 🇺🇸."
Many fans noticed the exchange on Twitter, and they expressed similar points of view.
The NRA Twitter account has posted several times since Poehler called for them to f*ck off, but representatives have yet to acknowledge her message. The NRA did not immediately respond to Romper's request for comment.
At CNN's town hall Wednesday night, Loesch faced off with Emma Gonzalez, a senior at Marjory Stoneman Douglas High School and survivor of the shooting. "Dana Loesch, I want you to know that we will support your two children in the way that you will not," Gonzalez said directly to Loesch at the town hall, as seen in the broadcast of the town hall on CNN. "The shooter at our school obtained weapons that he used on us legally. Do you believe that it should be harder to obtain these semi-automatic weapons and the modifications for these weapons to make them fully automatic like bump stocks?" Gonzalez asked the NRA spokesperson.
Before Loesch even got into her answer, the crowd was already booing her. "I don't believe that this insane monster should have ever been able to obtain a firearm, ever. I do not think that he should have gotten his hands on any kind of weapon. That's number one," she said. Throughout the discussion, Loesch referred to the Parkland shooter with phrases like "madman," "crazy," "mentally unfit," and "insane."
Blaming this shooting on mental illness — which Trump has also done — is problematic, for several reasons. Firstly, many believe focusing on mental illness detracts from the central issue here, which is that the United States needs stronger gun safety laws. And secondly, statistics show that people with mental illness are nowhere near as likely to commit violent acts as Trump may make it seem. In fact, people with serious mental illness only commit 3 to 5 percent of all violence (not limited to gun violence), according to statistics reported by the American Mental Health Counselors association last year.
If Leslie Knope was listening, she would surely approve of Gonzalez's bravery.