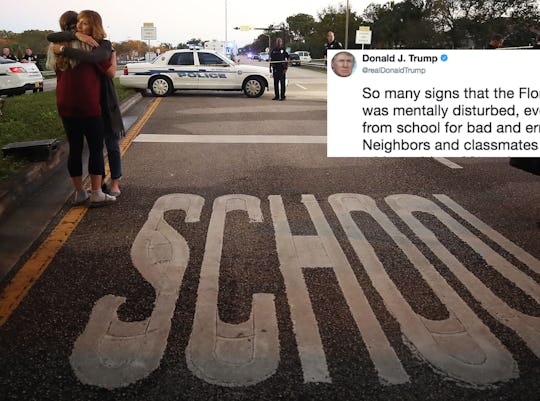 Mark Wilson/Getty Images News/Getty Images
Trump Blamed Mental Illness & "Classmates" For The Parkland Shooting, & People Are Outraged
Despite the internet's rallying cries for stricter gun safety laws in the wake of Wednesday's tragic school shooting, Donald Trump decided to blame the shooter's actions on something else. In a tweet early Thursday morning, Trump blamed the shooter's horrific actions on mental illness, and people are responding with outrage.
"So many signs that the Florida shooter was mentally disturbed, even expelled from school for bad and erratic behavior," Trump wrote on Twitter. "Neighbors and classmates knew he was a big problem. Must always report such instances to authorities, again and again!" The suspect is a former student who had been expelled from the school where he committed the shooting — Stoneman Douglas High School in Parkland, Florida — for disciplinary issues, according to CNN.
Many feel it's problematic for the president to blame the shooter's terrorism on being "mentally disturbed," when the issue he should be focusing on is gun safety. According to a 2017 study (that was ongoing at the time) from Azim Shariff for the University of California at Irvine, people with anti-Muslim bias tend to categorize mass shooters in one of two ways: If they are not Muslim, they are mentally ill; if they are Muslim, they are a terrorist, according to NPR. As CNN reported in November, Trump's reaction to acts of terror by Muslim people versus those by non-Muslim people is starkly different, falling into the tendencies NPR outlined.
People took to Twitter to criticize Trump's focus on mental illness instead of gun safety.
Nearly one year ago, Trump signed a bill rolling back an Obama-era law that made it more difficult for people with severe mental illnesses to buy guns, according to NBC News. Obama first suggested the law in response to the 2012 Sandy Hook Elementary School shooting. The regulation was finalized in December 2016, and had yet to become fully operative when Trump overturned it, a little more than one month into his presidency. Had Trump let the law remain, a predicted 75,000 citizens with severe mental illnesses would have been barred from purchasing guns, NBC News reports.
According to statistics shared by the American Mental Health Counselors association in 2017, people with serious mental illness are rarely violent, and they only contribute to about 3 to 5 percent of all violence (that includes all other kinds of violence in addition to gun violence). And as per a study by James L. Knoll IV and George D. Annas that was published in 2016 by the American Psychiatric Association, less than 1 percent of gun-related deaths are committed by people with serious mental illnesses. Not to mention, according to a 2001 study by UCLA researchers, the individuals with schizophrenia who were studied were found to be "at least 14 times more likely to be victims of a violent crime than to be arrested for one."
And on top of all that, people who are generally more violent than those with serious mental illnesses often get away with becoming gun owners. As outlined in 2017 by the New York Times, people who have committed domestic violence are often able to purchase guns despite their convictions. For example, in 2017, a man who was charged of physically assaulting his wife in 2012 burst into a church and killed at least 26 people with a rifle.
Following Trump's tweet about the shooter's "mental illness," many on the social media platform made sure the issue of Trump overturning Obama's regulation was brought to light.
Additionally, people are criticizing the president for putting blame on the suspect's "neighbors and classmates" for not reporting the shooter's behavior to the authorities.
Students who attend Stoneman Douglas High School and survived the attack have even taken to Twitter to criticize the way the president has handled the shooting so far.
"Unless you are going to do something about gun control so no one else experiences what my school has, shut the f*ck up," a student, who seems to attend Stoneman Douglas, tweeted at the president.
Furthermore, Trump tweeted about the shooting twice on Wednesday, falling into the "thoughts and prayers" trap. "My prayers and condolences to the families of the victims of the terrible Florida shooting," Trump tweeted. "No child, teacher or anyone else should ever feel unsafe in an American school."
The day of the shooting, Trump also tweeted that he was working with Florida Gov. Rick Scott and law enforcement on the shooting — though he did not provide any further details.
Gun violence statistics in the United States are damning, especially in relation to school shootings and children. An average of seven children and teens are killed by guns in the United States every day, and an average of 13,000 gun homicides are committed each year in the United States, according to research by the U.S. Centers for Disease Control.
Background checks have prevented 3 million gun purchases between 1994 and 2004, as per a study by Department of Justice — and with stricter gun safety, such as a law prohibiting citizens from purchasing AR-15s, many feel the United States could actually begin to take strides in preventing another tragedy like this from happening.