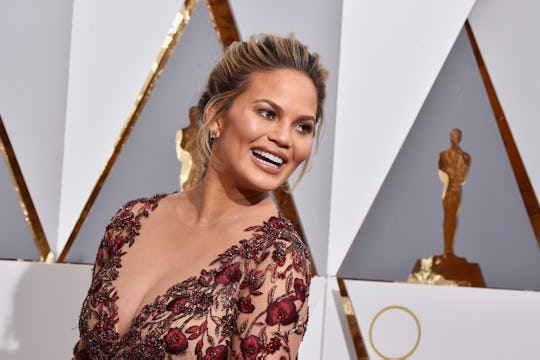 Kevork Djansezian/Getty Images Entertainment/Getty Images
People Are Loving That Chrissy Teigen Gave Luna Her First Chore
Chrissy Teigen has come up against the solid brick wall that is mom-shaming time and again. I'm not sure why she seems to have specifically been targeted, but most days it feels like the people will find something to bash or complain about the model's parenting style. So when Teigen gave Luna her first chore and shared it on Instagram, it was such a relief to see that pretty much everyone just loved every second of it.
Cookbook author Teigen and husband, "All of Me" singer John Legend, are parents to adorable 17-month-old daughter Luna. They've both caught some serious social media flak over their parenting style, though it should be noted that Teigen appears to carry the brunt of the criticism. Whether she's being attacked for carrying her baby "the wrong way," to shaming her over her car seat, the way she dresses her daughter... the girl can't catch a break.
One would think she would give up, but let's face it: everyone wants to share their love of their little one. And why should Teigen be denied the pleasure? So she risked it again, and shared a video of little Luna carrying a dish of dog food to the carpet (for a dog that was dressed as a bellhop, it bears pointing out). And the result was so well-intentioned and utterly pure, no one could bring themselves to criticize.
Now, as a brief but pleasant side note, please enjoy a picture of Teigen's dog dressed as a bellhop for no reason whatsoever.
The dog/bellhop notwithstanding, people took to Luna's first chore the way adults are meant to take to such things; with utter adoration. Her little apron didn't hurt matters.
"I just love seeing your posts tho! So genuine & your daughter's such a cutie," one follower wrote on the video.
Another viewer complimented Teigen's lesson, writing: "She's learning to pitch in, very rewarding!"
"Awwww!! Teachin' her right, Mama Chrissy!!" one more fan commented.
It's such a lovely change from the usual hateful vitreol Teigen normally has to endure. Not that she's ever really let it get her down — smart woman. In March, she posted a tweet sharing some of the more hateful comments she's received with the comment, "Imagine being this miserable. We are fine, thanks."
It seems the little family is doing more than fine. As evidenced by this video of Luna falling hopelessly in love with a Tickle-Me Elmo doll.
As far as Luna's chore was concerned, Teigen is wise to make the chore both fun and rewarding (she can be heard in the background calling out, "Good job!"). According to Wired, experts agree that starting children on simpler, fun chores (like dusting furniture, helping fold laundry if you have the patience for it, and feeding pets) at a young age gives them a more positive attitude towards work in general. And if you get them to wear an apron, it's obviously even better.
After dealing with shamers and critics for months at a time, it must have felt like a pleasant change for Teigen to just get loads of love on Instagram. Plus, she spent all day Thursday waging a serious social media campaign to find six ripe bananas for her banana bread, calling out to her followers on Twitter for ripe bananas and sending an assistant to collect them. Clearly, she's not afraid of a little work... or a little crowd-sourcing.
Watch Romper's new video series, Romper's Doula Diaries:
Check out the entire Romper's Doula Diaries series and other videos on Facebook and the Bustle app across Apple TV, Roku, and Amazon Fire TV.