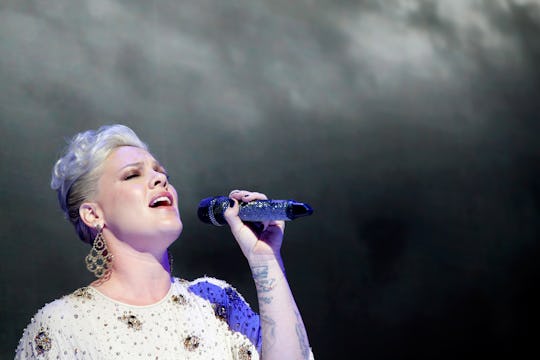 Joe Scarnici/Getty Images Entertainment/Getty Images
People Are Mom-Shaming Pink — Again
You're damned if you do and you're damned if you don't. That was definitely the case when singer Pink posted a photo of herself cooking with her kids, leaving some onlookers totally up in arms and criticizing the 37-year-old singer for sautéing some veggies with her baby strapped to her chest, as her 6-year-old daughter, Willow, watched from a nearby countertop. As expected, shortly after Pink shared the photo on Sunday evening — simply captioned "dinner time" — mom-shamers came out with guns blazing.
"Cute photo but please don't cook wearing the baby," one follower commented. "I've read some really horrific stories about terrible accidents that have occurred doing this."
Another follower wrote: "Dangerous stuff for your kids! Stop doing this!... Are you insane this days [sic]? This picture would give a good example of what not to do with small children. Shocking picture."
"The amount of crazy parenting around this picture is insane," another commented, adding that Pink was putting her baby in danger of getting splattered with oil.
Fortunately, though, the volume of negative comments was quickly outweighed by an overwhelming amount of supportive messages from fellow moms who loved the normality of the photo. "Now this is real life a mama multi-tasking teaching the kids how to cook and living a normal life that dinner looks great," one fan commented.
Meanwhile, those who didn't partake in either side of the drama that unfolded in the comment section focused their attention instead on how adorable her kids were and how intently her 6-month-old son, Jameson, was staring at the tasty creation his mom was cooking.
"I wish my kiddo would look at a veggie with such intensity," another comment read.
Unfortunately, this isn't the first time the simply badass mom has been the target of mom-shaming. For instance, when Pink first announced that she was pregnant with her little boy, people had a lot to say about a photo she shared on Instagram of her drinking coffee while pregnant.
"When microwaving your decaf coffee becomes an excuse to sit on the floor and rest for a while," she captioned a photo from December, which garnered tons of opinionated comments judging her for drinking caffeine — even though almost all of it is removed in decaf coffee — and for putting her bump too close to a microwave.
Pink has a pretty thick skin — and great sense of humor — given the type of ridiculous feedback she gets on her Instagram posts. And thank goodness she does, because it's breath of fresh air for the rest of us and a wonderful reminder to parents to not let this kind of unsolicited advice get to you.
Keep doing you, Pink. You're a true momspiration for, well, moms everywhere.