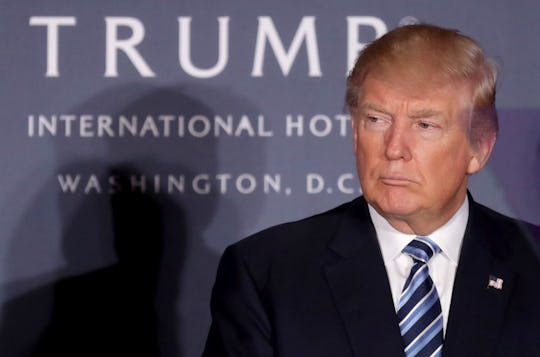 Chip Somodevilla/Getty Images News/Getty Images
Yup, Trump Is Already Fundraising For 2020
Donald Trump secured the presidency last year amid widespread consternation about potential conflicts of interest and unethical profiting associated with his business empire and newly acquired political clout. Now, barely five months into his presidency, Trump is hosting his first political fundraiser earlier into his term than any other president in history. But that's not (the only reason) why people are pissed about Trump's latest fundraiser. It's clear that this is a president who's more interested in soaking up the adulation of his base than leading the country. What's more, the most pressing concern about this Wednesday evening fundraiser seems to be that it's taking place at the Trump International Hotel in Washington, D.C. And I don't need to tell you that he still owns that.
According to Bloomberg, there are a series of glaring issues associated with the president holding a campaign event at a property he owns. First, an event such as this one will raise the profile of the property, which is certainly good for business and is likely to ultimately profit Trump. Also, it could breach federal laws associated with a president's businesses. That's because his campaign will pay the hotel for the evening, and a higher than usual payment would result in the president's personally benefitting from campaign dollars, former Federal Elections Commission general counsel Larry Noble told the outlet.
And if the price tag ends up on the lower end? That could mean that the Trump Organization "may have made an illegal corporate campaign contribution," Bloomberg's Ben Brody summarized. Romper reached out to both the White House and the Trump Organization, the entity that oversees Trump's many business ventures, about such concerns, but has not yet heard back.
The fundraiser is meant to raise money for the Republican National Committee in additional to Trump's reelection fund, the Associated Press reported. With tickets being sold for between $35,000 and $110,000, it's projected to rake in $10 million for the cause. Additionally, Trump has already hosted five political rallies post-election and raised $7 million in the first three months of 2017 toward his 2020 fund by accepting small-scale donations and selling his signature "Make America Great Again" merchandise.
Protesters, who had planned to demonstrate outside the closed (even to the press) event, met the president's motorcade with shouts of "Shame!" when he arrived:
Of course, anti-Trump protesters are undoubtedly mad about pressing issues like the callousness of the Republicans' proposed health care bill, but the appearance that he is continuing to profit from his position of power is additional cause for outrage. Already, we know that Trump's 2016 campaign proved to be somewhat of a boon for his business, as they made more than $14 million as a direct result.
After serious concerns about conflicts of interest first cropped up shortly after he was elected, Trump transferred the business interests of the hotel into a trust controlled by his adult children, according to ThinkProgress. However, ProPublica reported in April that "President Trump can withdraw profits and underlying assets from his trust at any time."
It certainly seems as though the president is very much in control of his assets as they relate to the hotel where is hosting a campaign event for donors with lots and lots of money. Whether or not he's actually profiting from the presidency in this instance, that's not a good look.