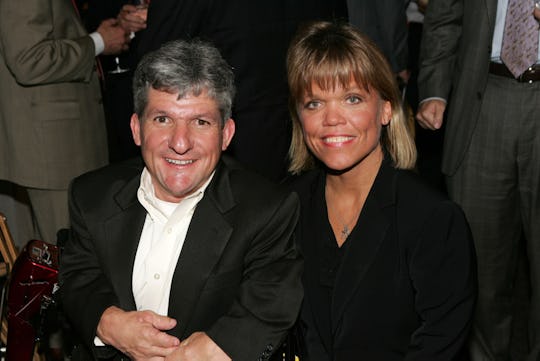 Thos Robinson/Getty Images Entertainment/Getty Images
The Reason People Are Pissed Amy Roloff's Ex Isn't In This Photo Is Just Ridiculous
When Amy and Matt Roloff made the big announcement that they would be ending their marriage after 27 years together in 2015, fans of Little People, Big World were shocked. Because the couple seemed happy, raising their four kids and running their pumpkin farm together. But here's the thing: it's easy enough to seem happy, especially to people who don't really know you. So when people were pissed at Amy Roloff for not including her ex-husband in a party for son Jacob, it struck me as a little ridiculous.
Sure, there are loads of couples who manage to have a "conscious uncoupling" (thanks, Gwyneth Paltrow) and work towards being the very best co-parents they can be. In fact, when it was announced that Amy Roloff was filing for divorce, the couple's statement noted in In Touch Weekly that the two planned to work together despite the demise of their relationship:
After 27 years of marriage, it is with great sadness that we have come to the difficult decision to file for divorce. We are proud of what we have accomplished together, including raising our four wonderful children, who have grown to become remarkable adults and building our strong and ongoing successful businesses. Our kids and our ever-growing family, and the love and support we have for them, will be our priority. We will continue to work together side-by-side in the daily responsibilities for our many current ventures. We would like to thank our family, friends, and all our fans for their continued support and understanding during this difficult time.
You know what they say about the best laid plans. In the two years since the couple separated, a lot has happened. Each of the Roloff parents has started to date other people. Their family has grown considerably (they're now the proud grandparents of baby Jackson and baby Ember). They both seem to have moved on with their lives.
Unfortunately, not all fans seem to be willing to just let it go. When Amy posted a picture to Instagram of a party she hosted for youngest son Jacob's 21st birthday, some people were pissed that Matt wasn't in the picture.
Eagle-eyed Instagram users posted an array of comments on the photo, sharing their opinions on the party's guest list.
"Where is Matt? Was he invited to his sons 21st birthday?" one commented, while another chimed in, "Matt wasn't invited to his son's 21st? That is just wrong."
Another wrote, "With everybody but Matt, so sad. Everybody looks great tho...." Yet another commented, "Matt should've been there with his girlfriend as these are his children also."
One fan demanded, "Stop treating matt like that." And one more follower wrote: "Aww, Matt should have been their [sic] no matter what he's the farm and created that farm for his family and when children came!!!!! Sad he doesn't have to sit next to Amy!!!"
Fortunately, not everyone was so quick to throw shade at Amy for hosting a family birthday party without her ex-husband, like this Instagram user who noted:
This is Amy's house...they're divorced & he has his own place & can have them over as well. They're not obligated to invite each other over for anything...
It's also important to explore the possibility that perhaps Matt was invited to the party and couldn't or chose not to attend. Or perhaps he was the one behind the camera snapping the shot that's got some fans riled up. Whatever the case may be, a sweet photo of a special day isn't an invitation to make passive aggressive judgements about their family dynamic.
Here's the thing: when you are fresh out of a terribly sad situation and trying to figure out how to pull apart all of the little threads of your life that have bound you together, the world looks different. Sure, the Roloffs might have wanted to work on keeping the family together for big holidays. In a perfect world, every divorced couple would be able to enjoy blissful co-parenting, but this isn't a perfect world and it's impossible to know the intricacies of theirs.
Not everyone has the sort of relationship with their ex that invites continued, sustained contact. Sometimes, there's simply too much history to move forward together. And guess what? That's actually OK.
Amy Roloff, like every other single parent out there, doesn't owe a perfect co-parenting experience to anyone. Not even her own kids. She's allowed to move on with her life and create a new family unit, just as Matt is welcome to create his own. Being civil is important, of course, but sharing every family event isn't in the cards for everybody. Because nobody gets to define the way you handle a divorce, other than you. Period.
Check out Romper's new video series, Romper's Doula Diaries:
Watch full episodes of Romper's Doula Diaries on Facebook Watch.