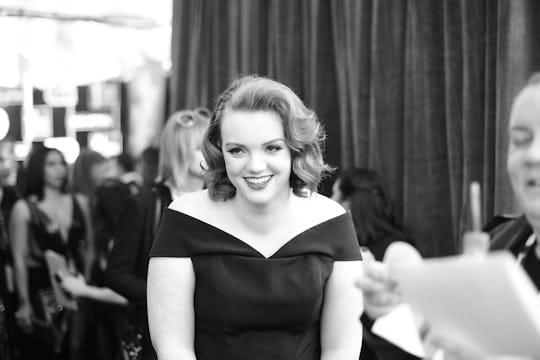 Charley Gallay/Getty Images Entertainment/Getty Images
Barb From 'Stranger Things' Got An Emmy Nomination
The 2017 Emmy Award nominations are out, and there are some definite snubs, for sure: The Leftovers, anyone? But there's a nomination that seems to have particularly gotten under TV fans' skin because people are pissed Barb from Stranger Things got an Emmy nomination. For such a beloved character whose (spoiler) on-screen demise was totally unpredicted, people are riled the hell up that actress Shannon Purser received an Emmy nomination for Outstanding Guest Actress In A Drama Series. For her part, Purser appeared humbled by the Emmy nod, tweeting Thursday, "Wow. I am so incredibly honored. Thank you so much. Congratulations to all the other incredible nominees."
Purser's character Barb, the mousey but deeply loyal redhead friend, became one of the breakout characters of Stranger Things. The Netflix original series became a must-watch TV obsession of last summer, if only to find out what happened to Barb after the Demogorgon ate her as a poolside snack halfway through the show's first season. According to co-star David Harbour, who plays Chief Hoppper, Barb ain't comin' back, folks — as he told to rightfully devastated Barb fans at October's New York Comic Con. So, you would think people would be cheering for Barb — and thus, Shannon Purser — on that whole Emmy nomination thing.
Well... not so much, as it turns out.
Outraged fans on Twitter had plenty of suggestions of who should have been nominated for the Outstanding Guest Actress Emmy in lieu of Barb. Some fans thought Carrie Coon from HBO's The Leftovers was snubbed and should have gotten an Emmy nom instead of Purser. There were also plenty of TV fans rooting for Gillian Anderson and her role in the Starz show, American Gods.
For some fans, the unexpected Emmy nomination went political.
But political comparisons weren't the only Haterade being freshly squeezed all over Twitter. Some fans thought Barb's Emmy nomination was some kind of donkey sauce level of absurdity.
Purser wasn't the only cast member from Stranger Things to receive an Emmy nomination. Millie Bobby Brown, who plays the telekinetic wunderkind Eleven, and Harbour also got Emmy nods. Purser congratulated her fellow cast mates on Twitter.
While there are plenty of Stranger Things fans who see Purser's nomination as "justice for Barb," there are just as many fans who seriously were not having it. While Purser's Emmy win might be a long shot — she's up against some stiff competition including Cicely Tyson and Laverne Cox — some fans are still pretty upset that her winning is even a possibility. If anything, Purser's nomination feels a bit like Judi Dench's Oscar win for her eight minutes on screen during 2008's Shakespeare in Love — which one Twitter user mysteriously seems to have predicted nearly a year ago.
Stranger things, indeed.