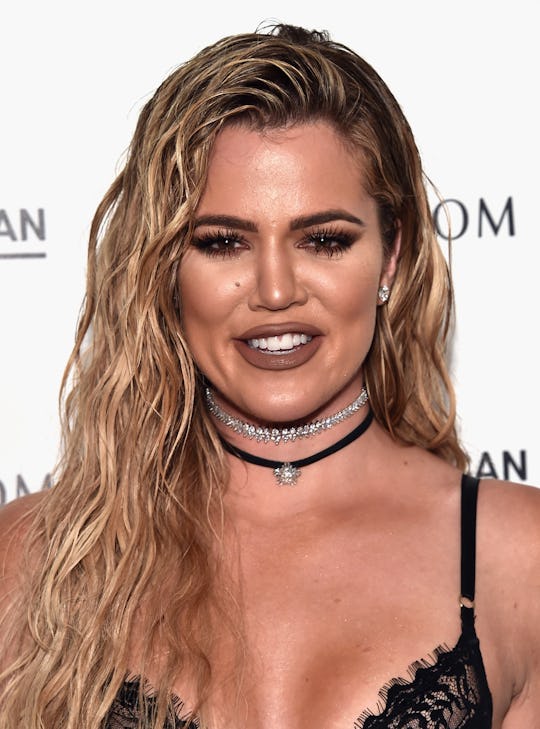 Alberto E. Rodriguez/Getty Images Entertainment/Getty Images
Khloé Kardashian's Newest Maternity Photoshoot Is Absolutely Gorgeous, & Fans Are Loving It
Khloé Kardashian is just weeks away from welcoming her first baby, and honestly? I'm here for it. The Revenge Body host is reportedly all nestled in Cleveland with her boyfriend, Cleveland Cavalier player Tristan Thompson, getting ready for the birth. But that doesn't mean she's too busy to share a sexy selfie on Instagram, guys. When Khloé posted a new pregnancy shot on Instagram on Wednesday, I hesitantly read through the comments. Bracing myself for the inevitable onslaught of mom-shamers who would be taking her to task for sharing a sexy picture. Instead, I was pleased to read nothing but positive, happy comments and well-wishes. Like the sun shining on the internet, it was a beautiful thing.
It was also something of a shock, considering the ever-popular trend of shaming women for having body confidence. Especially if they're mothers and, it seems to me at any rate, especially if they're a Kardashian or a Jenner. While all of the sisters spend a lot of time in the limelight and have taken their share of hits from critics for sharing "too much" of their bodies on social media, Khloé has suffered on a different level over the years. And it looks like fans might finally simply want to help her feel good about herself after years of giving her hell.
The Good American jeans designer posed in lingerie and a robe in the gorgeous black-and-white photo on Instagram just days before she's expected to give birth to a baby girl. She looks beautiful, of course, but it's the outpouring of positive responses from her followers that really stole the show.
This photo is gorgeous....so happy for you!!!!wish you the safest delivery ever....💐💐💐
Love u so much @khloekardashian You look stunning as always💖💖GOD BLESS YOU AN UR BABY
Beautiful woman and I know you will be a great Mother ❤
Awww u are just glowing and gorgeous 😍 can't wait to see a pic of your new bundle of joy!
It was a nice change of pace, to see so many Instagram users uniting in positivity and warm wishes for Khloé. Throughout the years she has come under harsh criticism for pretty much any choice she makes or any size she happens to be. Prior to launching into a healthier lifestyle, Khloé has admitted she was body shamed not just by the media, but also by her own family, according to Shape. During an episode of Revenge Body, she said that her family asked her to lose weight because they felt it was hurting their brand, according to Shape:
I understand that was coming from my management side of my family, but it does hurt. I'm a huge believer of it's not what you say, it's how you say it.
After she lost weight and focused on staying fit and eating healthy, one might think it would be smooth sailing for the Keeping Up With The Kardashians star. Nope. She was accused of endangering her baby with excessive exercise mere days after sharing her pregnancy with the world. Ironically, Khloé is so well-versed in dealing with critics that she had no problem clapping back at those who would insinuate she would ever ignore the safety of her unborn baby.
Her years of being criticized seem to have made Khloé particularly adept at advocating for herself, and self-protecting against possible trolls. Which is why this positive reaction to her lingerie pregnancy shoot is so refreshing. Finally, people are simply supporting Khloé and wishing her well. Finally acknowledging that it's OK for women to be mothers and want to be sexy, and the two roles don't have to be mutually exclusive.
And it's only taken how many years to get here, again?
Check out Romper's new video series, Bearing The Motherload, where disagreeing parents from different sides of an issue sit down with a mediator and talk about how to support (and not judge) each other's parenting perspectives. New episodes air Mondays on Facebook.