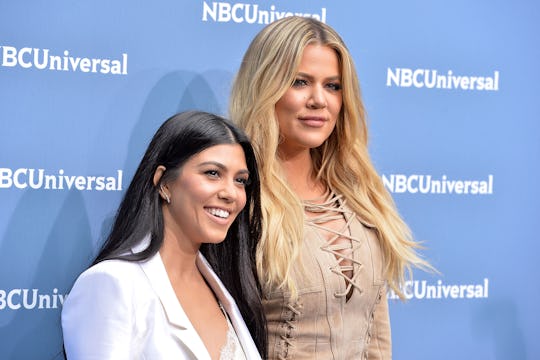 Slaven Vlasic/Getty Images Entertainment/Getty Images
People Are Freaking Out About Khloe's Appearance In Kim K's Christmas Card Photo
It's the 13th day of December, which means Kim Kardashian has released another sneak peak of the 2017 Kardashian Christmas card (otherwise known as the Kardashian Kristmas Kard). Of course, fans of Keeping Up With The Kardashians couldn't wait to see what the royal reality TV family had in store. But they didn't get what they truly wanted (you know, confirming those pregnancy rumors). Instead, people are really confused about Khloé's appearance in Kim Kardashian's Christmas Card photo.
Why, exactly, would people be confused? Well, it all started when Kim Kardashian began to reveal via Snapchat parts of this year's Christmas card, themed "25 Days of Christmas," earlier this month. Not long after, KUWTK fans start throwing out theories on social media that the famous clan's Christmas card would confirm Khloé and Kylie's pregnancies, according to Hello Giggles.
Those theories have to do, in part, with source-informed reports that matriarch Kris Jenner plans to use the Kardashian Christmas Card to break the news that daughters Khloé and Kylie Jenner, 20, are both expecting their first child, respectively, according to Hollywood Life. Another source told US Weekly in November that Khloé would soon announce that she and her NBA star boyfriend, Tristan Thompson, are welcoming their first child. It seems the latest Christmas card sneak peak disproves those reports.
No one should be surprised why fans would be confused — and disappointed — by Khloé's appearance in the Christmas card sneak peak photo. After all, the pregnancy rumors have been swirling around for months, and KUWTK die-hards just want to know the truth. And with source after source telling tabloid publications all these juicy — but unverified and unconfirmed — details, they just can't wait any longer.
It all started in September, when TMZ broke the news that Kylie Jenner is reportedly expecting her first child with boyfriend Travis Scott. Then a week later, US Weekly swoops in with an exclusive report, provided by "multiple sources," that the Good American co-founder, Khloé, is also pregnant with boyfriend Thompson's baby.
The Kardashian-Jenner clan, however, have yet to confirm if any of those pregnancy rumors are true. Kim is the only one to confirm publicly that she is expecting her third child via surrogate with husband Kayne West, according to Refinery29. She also told Ellen DeGeneres on her show that she's expecting a girl.
Of course, the Kardashian brood doesn't owe anyone any answers. But that hasn't stopped KUWTK fans from demanding confirmation, as shown by social media responses to the 2017 Kardashian Christmas card photo released Wednesday — or anything Kardashian-related, really.
Even though Kim Kardashian's Day 13 photo reveal didn't confirm Khloé or Kylie's pregnancy, fans may still get their wish sooner than later. The mid-season promo video for Keeping Up With the Kardashians dropped this week and it seems something big is going to happen, according to Glamour. All signs point to Khloé's pregnancy announcement: A clip at the end of the video shows the Kardashian-Jenner clan gathered with friends, and they all seem to feign shock. Kim is seen asking mom Kris, "Did you not know?" To which a stunned Kris replies, "No."
That suspicious scene is followed by a clip of Khloé hugging her sister Kourtney and friend Malika, who asks, with an air of disbelief, "Are you kidding me?" Older sis Kourtney shouts, "Oh my God!" Of course, as Glamour pointed out, this could be the magic of editing. Who knows? Maybe Tristan asks Khloé to marry him, or they're moving overseas. (I am not suggesting either one of those are true. I would have no idea. Literally, no idea.)
With the Kardashian family, anything and everything is possible.
Check out Romper's new video series, Romper's Doula Diaries:
Watch full episodes of Romper's Doula Diaries on Facebook Watch.