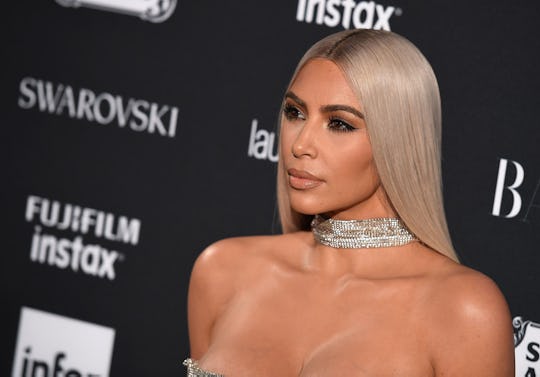 ANGELA WEISS/AFP/Getty Images
Kim Kardashian Just Shared The Most Cryptic Message, But What Does It Mean?!
Once again, the Kardashians find themselves dominating the news. Why? Because Kim Kardashian West just shared the most cryptic message on social media that has everyone asking: What does it mean? (Romper reached out to Kardashian West's publicist, but has yet to hear back.)
On Wednesday, Keeping Up With The Kardashians fans put on their Sherlock Holmes caps to dissect Kardashian West's message, which appeared on her official Facebook and Twitter accounts. The post read,
Let me just say this... People who supposedly work with us "confirming" details they know nothing about! Especially when we havent [sic] even communicated with them SMH
People commenting on either post were quick to assume Kardashian West was referring to the pregnancy rumors swirling around her sisters, Khloe Kardashian and Kylie Jenner. Last week, TMZ broke the news that Jenner is reportedly expecting her first child with boyfriend Travis Scott. Then on Tuesday, US Weekly reported that the youngest Kardashian, who's dating NBA player Tristan Thompson, is also pregnant. Both outlets claim the news comes from "multiple sources." The Kardashian-Jenner clan, however, have yet to confirm if the pregnancy rumors are true.
So could it be Kardashian West is lambasting said sources for yapping their mouths about "details they know nothing about!"? People on social media seem to think so.
As of early Wednesday afternoon, Kardashian's cryptic message was shared more than 30,000 times on Twitter, and liked more than 14,000 times on Facebook. Many of the people who commented on her posts pressed Kardashian West to "just say" whether or not her sisters are pregnant. Others criticized the Keeping Up With The Kardashian star and her fans for not worrying about "more important issues." A few even accused Kardashian West of being mad that her sisters stole her spotlight. (PEOPLE reported earlier this month that she's expecting her third child via surrogate with husband Kayne West, but her representative has not responded to Romper's request for comment regarding the rumor and Kardashian has not spoken publicly about it.)
But some did come to the family's defense. One person wrote on her Facebook post,
Famous or not, their human! I can't imagine being famous to be cut down on a daily basis! It's their life! And none of our Business! Period!
Another commented,
The whole Kardashian family doesn't owe anyone any explanations or confirmations! Can they live? At the end they're humans! As much as people say Kylie is too young to have a child, she has an incredible supportive family and has more than enough money to support her baby physically, financially and emotionally. If Kylie Jenner is pregnant is her BUSINESS! And I think she will be an excellent mother because she has one herself.
So what could Kardashian West be referring to? The Hollywood Reporter speculates that, since her posts reference a working relationship, that they may be about E! News's story on Khloe's pregnancy because KUWTK is produced by E!. But, seriously, who knows?
Kardashian West is part of a famous family, which means she could be talking about any one of the rumors surrounding the Kardashian-Jenner clan. It could be about the alleged pregnancies, or her alleged reaction to them. Or maybe it's about that old rumor that O.J. Simpson is Khloé's father. After all, there are so many sources out there giving "inside scopes" to publications.
The 36-year-old celebrity and mom of two has yet to respond to her fans or critics since she posted her vague message Wednesday morning. Instead, later that afternoon, the KKW Beauty founder posted to Twitter a link to her blog post rounding up her funniest one-liners from Keeping Up With The Kardashians. And Kardashian West's cryptic message is still at the top of her Facebook page.
Oh, Kim, what a way to keep people guessing.
Watch Romper's new video series, Romper's Doula Diaries:
Check out the entire Romper's Doula Diaries series and other videos on Facebook and the Bustle app across Apple TV, Roku, and Amazon Fire TV.