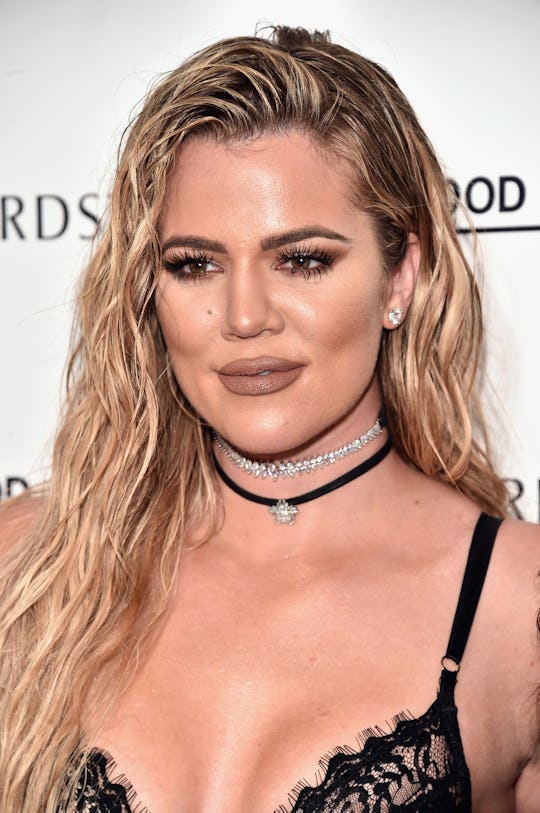 Alberto E. Rodriguez/Getty Images Entertainment/Getty Images
You May Have Completely Missed These ~Clues~ That Khloe Kardashian Is Pregnant
Everyone, get our your Sherlock Holmes hats and magnifying glasses, because the ever-expanding Kardashian family is reportedly expanding... again. And no, I'm not talking about the alleged Kylie Jenner pregnancy. I'm talking about Kylie's big sister. No, not Kim! Are you ready, internet sleuths? Time to troll the Interwebs for clues that Khloe Kardashian is reportedly pregnant.
You read that right, people. Multiple outlets including Us Weekly are reporting that Khloe Kardashian is expecting her first baby with boyfriend Tristian Thompson. Romper has reached out to Khloe's rep but hasn't heard back. Of course, this isn't the first bit of OMG baby news from the Kardashian world in just a few days. People are still wrapping their minds around the idea of Kylie Jenner becoming a mom. (Romper has also reached out to Jenner's representatives but has not heard back from them, either.) Kids just grow up so fast these days. But, if Hollywood Life's "insider source" is to be believed, there are going to be at least two more cousins in the Kardashian clan. "Khloe is pregnant as well!" claim-eth this individual. "She and Kylie are both due around the same time both approximately 4 months along."
Meanwhile, a source tells People:
This isn't something they were in a rush to announce to the whole world, and it's only been in just the past week or so that they've felt comfortable telling most of their inner circle. Things were complicated a bit by Kylie's announcement as they don't want to be seen as intruding on that moment for her but it is now reaching a point where Khloe doesn't want to be openly lying to people, and just staying quiet isn't going to work anymore.
If this is confirmed, the world is going to have veritable Kardashian baby boom on its hands!
Now, about these clues. First of all, no, I'm not going to start trolling through recent photos of Khloe looking for a baby bump. Guys. Come on. Just no.
What is certainly very interesting is the fact that, during the June 11 season finale of Keeping Up With the Kardashians, Khloe herself confessed that she is not taking birth control. Does that count as a clue? I say yes! Put it in the clue pile!
If you hearken back to that episode, you'll recall that it was all about fertility. To make a long story short, during the episode, Khloe got the good news that she was, indeed, totally able to conceive.
"I am so relieved to know that I am able to get pregnant," Khloe said in her sit-down, reported Hollywood Life. "Now I have so many other things to think about. Do I wanna have my own baby now? I don't know. I'm at a crossroads." She added:
Tristan and I definitely talk about starting a family. He wants to have about five or six kids with me and that's lovely. We could start at one and we could grow from there. But now knowing I'm not on birth control is scary. It's like a really big step.
A big step, indeed.
Our next clue come from the alleged father-to-be's Twitter, because where else would a respectable internet sleuth be looking for hard evidence? Are you ready? Tell me, fellow fact-hunters, what do you make of this?
Two sets of eyeballs. Two! Does this mean Thompson is double side-eyeing this pregnancy news ... which would mean that his second side-eye negates his first side-eye, therefore, it's true? This is how emojis work, right?
Are you getting worried that you're on a ride with a not very good mystery solver? Don't worry. Because I've actually uncovered an actual clue, and it's a good one.
Please enter into evidence this important tweet, dated June 26, 2017:
Is that a clue or is that a clue? Plus, it comes by way of Twitter by way of Snapchat, which means that we are the ultimate Internet sleuths.
Well, though it may be too soon to official hashtag this news #FACT, it's certainly looking like Kendall Jenner may soon have some serious babysitting duties to work into her schedule.
Watch Romper's new video series, Romper's Doula Diaries:
Check out the entire TK series and other videos on Facebook and the Bustle app across Apple TV, Roku, and Amazon Fire TV.