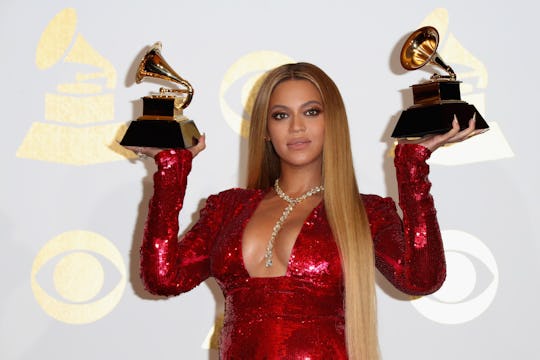 Frederick M. Brown/Getty Images Entertainment/Getty Images
Recreating Beyoncé's Vogue Cover Is The Hot New Internet Trend You Should Def Try
Beyoncé has a thing for being in iconic photos — and her fans have a thing for recreating them. While nothing could ever top Beyoncé's pregnancy announcement with the twins, her recent Vogue photoshoot was pretty dang flawless. So, it's no surprise that people are recreating Beyoncé's Vogue cover — and that the trend was started by the ultra fabulous Mindy Kaling.
On Wednesday, Kaling tweeted side-by-side photos of Beyoncé's cover photo from Vogue's 2018 September issue, and of herself recreating it. In Queen B's cover shot, she wore a frilly white blouse, her hair in a bun, and a gorgeous nest of flowers on her head. Kaling's look was a bit more casual — a white T-shirt (that reads "I will tell on you"), her hair down, and a slightly smaller head bouquet — but she totally nailed the pose. From the power pose to the smoldering eyes to the white backdrop, Kaling definitely brought her best Beyoncé to her impromptu photoshoot.
"Beyoncé Pad Thai, Vogue Edition," Kaling captioned her tweet. In case you're not a fan of The Mindy Project, Beyoncé Pad Thai is the "warrior name" that Mindy Lahiri (Kaling's character) came up with for herself on the sitcom, E! News reported.
And Kaling wasn't only recreating Beyoncé's photo for fun (although I'm sure it was pretty fun). Earlier this week, she tweeted out a Refinery29 article about how magazine stands are becoming increasingly more diverse. "Yasss to our new covergirls. This is our time. #RepresentationMatters," Kaling tweeted.
Kaling's Beyoncé recreation quickly racked up a ton of likes and responses. Many fans who just happened to have flower crowns on hand posed for their own recreations of Bey's Vogue cover, and they replied to Kaling's tweet with their shots.
And other fans just happened to have photos of themselves from the past that evoked the same vibes at Bey's Vogue shot. Naturally, they couldn't resist sharing them with Kaling as well.
However, one of the best responses came from Hulu, where the last three seasons of The Mindy Project aired. "Beyoncé Pad Thai, Floral Edition," Hulu's Twitter account replied to Kaling, alongside photos of Mindy Lahiri and Beyoncé rocking similar floral outfits. "Yaaaas," Kaling responded.
Vogue released Beyoncé's magazine cover and a personal essay for its September issue in early August. On top of being a simply stunning photo, Bey's cover shot marks a significant milestone. In her essay, Beyoncé revealed that Tyler Mitchell, who took the photo, was the first ever African American photographer to shoot a Vogue cover. She wrote:
Until there is a mosaic of perspectives coming from different ethnicities behind the lens, we will continue to have a narrow approach and view of what the world actually looks like. That is why I wanted to work with this brilliant 23-year-old photographer Tyler Mitchell. When I first started, 21 years ago, I was told that it was hard for me to get onto covers of magazines because black people did not sell. Clearly that has been proven a myth. Not only is an African American on the cover of the most important month for Vogue, this is the first ever Vogue cover shot by an African American photographer.
In a separate Vogue piece, Tyler Mitchell opened up about being the first African American photographer to shoot a cover for the magazine. "There was a ladder for the people who came before me, and there's a ladder now—it's just a new ladder," Mitchell told Vogue. "I want to open the eyes of the kids younger than me, show them that they can do this too."