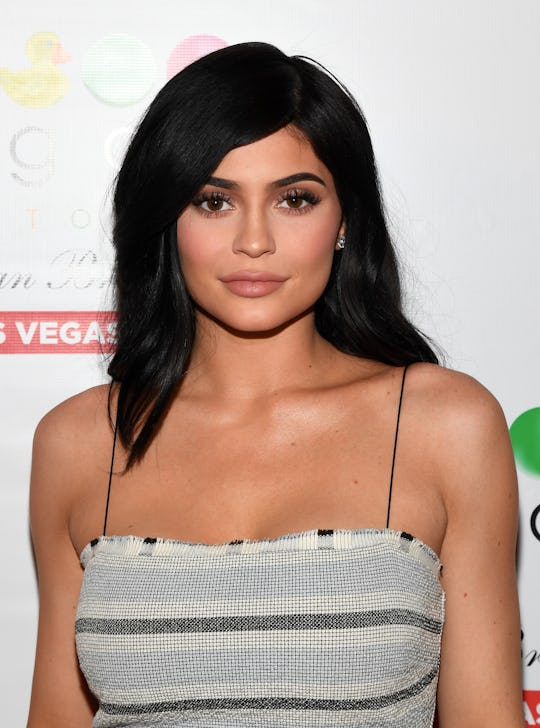 Ethan Miller/Getty Images Entertainment/Getty Images
People Think Kylie's Daughter's Name Sounds Like A Porn Star, & It's So Offensive
Kylie Jenner's baby girl made her way into the world a few days ago, and all the internet has been waiting for is one detail: a name! Of course, as soon as we got that name, so too did we get people sharing opinions, like the particularly egregious notion that Stormi, Kylie Jenner's daughter's name, sounds like a porn star. Please, fellow humans of the world. Just stop.
Yeah, yeah, I get it. The Kardashians and the Jenners are easy to mock. They live their lives in the public eye, and they make visible life choices that are easy to criticize from the outside. How fun it is to critique and make fun of them from the comfort and safety of our own anonymous (yet, of course, completely blameless) lives! What's more fun than picking apart the name of an innocent baby girl, who arrived here on Earth with us a mere four days ago? I'll tell you what — making sure to disparage not only her mother, but her entire family, that's what!
It's pretty amazing how many opinions people have about an infant they've never met, born into a family they've also never met.
Look at that sweet photo.
Here's a gentle reminder for... the entire world: the only people who get to have opinions about a baby's name are her parents.
Alas.
Believe it or not (you already believe it), the Porn Hub Twitter account has already weighed in:
Hmm let me think on that. Do I think that Kylie and her boyfriend Travis Scott were inspired by the adult movie actress recently linked with Donald Trump? I'm gonna say ... no. I do not.
There's plenty more where that came from, and as I'm writing this, it has been, oh, about half an hour since Kylie posted the announcement on her Instagram.
It's pretty easy to see why Kylie decided to go ahead and keep her entire pregnancy a private matter, while she was going through it. "I understand you're used to me bringing you along on all my journeys," she shared on her Instagram the day she announced the birth of her baby girl. "My pregnancy was one I chose not to do in front of the world. I knew for myself I needed to prepare for this role of a lifetime in the most positive, stress free, and healthy way I knew how."
And more to the point: "I knew my baby would feel every stress and every emotion so I chose to do it this way for my little life and our happiness."
The funny thing about the Kardashians and the Jenners, though, is their power in — and over — their story in the media. Just think for a moment about the way Kylie did actually manage to keep her pregnancy quiet. Not a single paparazzi shot of her "flaunting her bump;" not a single photo stolen in an off-guard moment. And when she was ready to share the news, she did, with a truly lovely video that had even people like me — people who don't watch the shows or really do too much "keeping up" with the Kardashians other than what I glean from working here at Romper — in tears. Did you see it?
So many truly sweet, authentic, and loving moments in here, between Kylie and her mom, her sisters, her friends, the father of her baby... and then, finally, and the very end, with her brand new, precious little daughter. With the help of her family, Kylie brought her daughter into the world on her own terms. And I'm quite certain that she did the same with the name she chose. All these unkind jokes will soon be meaningless and forgotten, while Stormi grows up surrounded by her confident, savvy, and loving family. We'll see who has the last laugh.
Check out Romper's new video series, Bearing The Motherload, where disagreeing parents from different sides of an issue sit down with a mediator and talk about how to support (and not judge) each other's parenting perspectives. New episodes air Mondays on Facebook.