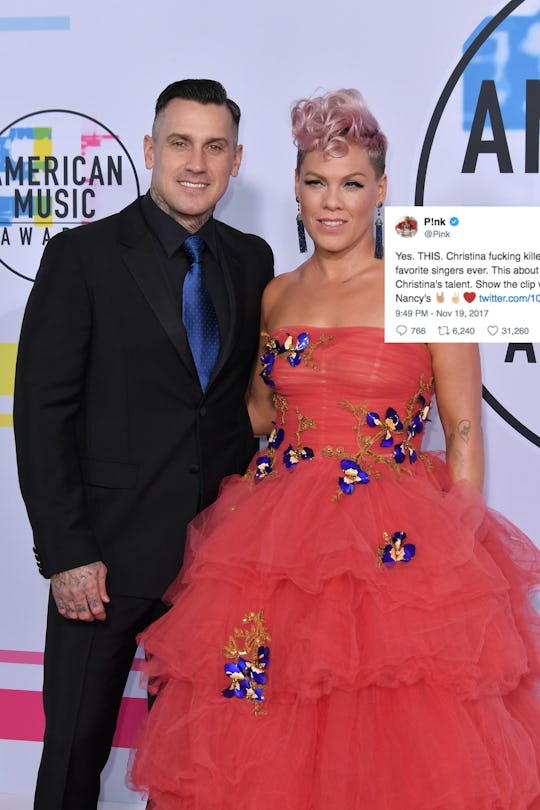 Neilson Barnard/Getty Images Entertainment/Getty Images
Pink Shuts Down That GIF Of Her "Cringing" At Christina Aguilera's AMA Performance
Just in case anyone was under the impression that Pink was in any mood to let inaccurate online criticism slide, the singer took to Twitter Sunday night to make it clear that she has approximately zero time for anybody's drama. Pink nailed her seriously-impressive performance at the American Music Awards — she literally performed hanging from the side of a building in downtown Los Angeles, which sounds like an actual nightmare come to life. But instead of focusing on that, people are saying Pink "cringed" at Christina Aguilera's AMA performance, thanks to a rather unfortunately-timed GIF currently being spread around social media.
Like Pink, Aguilera also took the stage Sunday night, in a special performance that was meant to be a tribute to the late Whitney Houston — as well as to honor the 25th anniversary of The Bodyguard soundtrack, which is the best-selling movie album of all time, according to Entertainment Weekly. She offered up a medley of hits from the film, including the iconic Houston hit, "I Will Always Love You," but as the cameras panned to some of the celebs in the audience, viewers couldn't help but notice that Pink looked, well, pretty unimpressed. As in, "Chrissy Teigen at the 2015 Golden Globes" unimpressed.
Unfortunately for Pink, the face she happened to be making when the camera zoomed in made it look like she wasn't exactly a fan of Aguilera's performance — which seems particularly shady given that the two singers used to have beef back in their early '00s, "Lady Marmalade" days. The image of Pink's less-than-enthused face quickly became a Twitter meme, and honestly, it was kind of hilarious:
And honestly, while the still photo of Pink's face did seem kind of brutal, it didn't exactly help to see the moment in context:
But as snarky and hilarious as the meme may have been, Pink quickly took to social media to shut it all down. In one perfectly badass tweet, she explained that she found Aguilera's performance to be completely amazing, and that she was not about to stand for anyone's petty nonsense.
Retweeting a response from Fuse TV's Mark Sundstrom in which he brushed off rumors of drama between the two stars, Pink wrote that she was "in awe of Christina's talent," before adding, "Show the clip where I'm in tears, you negative Nancy's."
Fans were understandably impressed with Pink's refusal to play games — especially when those games involve two women supposedly hating on one another:
While others were more than happy to provide additional footage that showed that, actually, Pink was totally feeling the performance:
In other words, as much as social media might love a celeb feud, in this case, Pink said there was nothing to get excited about. And while the two stars may have once had their issues, it sounds like they sorted it all out long ago.
According to Us Weekly, in a recent interview with Watch What Happens Live with Andy Cohen, Pink said,
We were super young and super new at the whole [fame] thing. I think I'm an alpha and she's an alpha, and I'm used to taking my altercations physical and she's used to having them verbal. We just are very different, we're very different ... Women have to learn how to support each other. It's not taught to us on the playground.
And in an earlier tweet back in August, Pink attempted to clear up any lingering doubt that the two weren't on good terms, writing,
I [love] Xtina, we've made amends ... Music brings us all together. The best part of music is — there's room for everyone to win at the same time. Don't be what's wrong w/ da world. Let's be an example of inclusion and celebration. You don't have to like me at all, I'm ok with that. Just be a decent person.
In other words? There's really nothing more to their apparent feud than the fact that Pink was pictured on camera making a face that didn't exactly translate well on social media. And she has absolutely no problem making that clear to anyone who might think otherwise.
Check out Romper's new video series, Romper's Doula Diaries:
Watch full episodes of Romper's Doula Diaries on Facebook Watch.