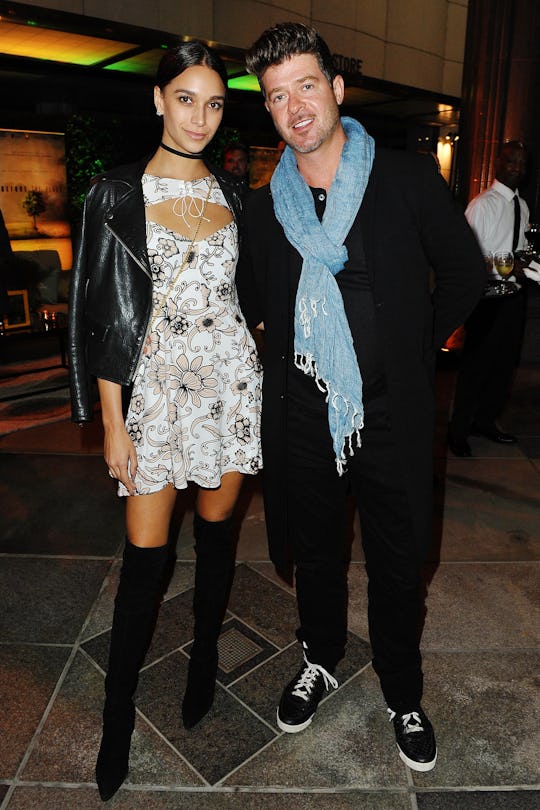 Jerod Harris/Getty Images Entertainment/Getty Images
People Are Shaming Robin Thicke's Girlfriend For Breastfeeding Without A Cover, & It's So Gross
On Monday, April Love Geary and Robin Thicke welcomed their first daughter together, Mia Love Thicke. Though Geary has only had a few months to adjust to new motherhood, she's already experiencing the downside of sharing intimate parts of her life with the public. Specifically, people are shaming April Love Geary for breastfeeding without covering herself, and TBH, the amount of ignorance is astounding.
Insider reported that Geary posted a photo of herself feeding her new daughter on Sunday, and in the time since, followers have been suggesting that because she didn't cover her chest, she was actually just trying to "show off" her body. "The fact that you put an x over your boob so the pic wouldn't get deleted just goes to show that your main intention of this post was to show the world your tits," one comment read. "You know too damn well you didn't post this photo to show breast feeding. These girls need to stop using breast feeding as an excuse to show off their tits," read another.
There are many layers to unpack here, mostly to do with the too common way people hyper-sexualize women's bodies to the point that public breastfeeding is unacceptable. Aside from the fact that "showing off" your body isn't a bad thing, deeper than that still is the false idea that breastfeeding without a chest covering is so reprehensible that there has to be another explanation. Some woke followers exonerated Geary, saying: "When will people understand that nipples are normal?" while others added: "Breastfeeding is a crazy beautiful road, and it should be celebrated. Don't listen to these know nothing know it alls. Being a new mom is hard enough."
Despite the backlash, Geary also realizes that breastfeeding desperately needs to be normalized. In fact, she actually called out U.K. television personality Chanelle Hayes who expressed her disapproval over the photo on Twitter. Chanelle said:
I'm all for breastfeeding and having a choice how to feed your baby but WHY do people feel the need to post pictures of themselves doing it?! Especially the new pic of Robin Thicke's gf! She's got hair done, makeup on, both boobs out. So strange. What's the need??
But Geary wasn't having it. She shared a screenshot of the tweet on Twitter alongside a photo of Chanelle, and captioned it: "Hey @chanellehayes, maybe the next time you want to criticize me for posting a picture of myself breastfeeding you should really take a look at the pictures you've had taken. Not that taking nudes are wrong! The naked body is a beautiful thing! But don't be a hypocrite mama."
Geary is not the first (nor is she likely the last) celeb to have to deal with such a response. When talking about how followers reacted to her breastfeeding, Pink told Ellen DeGeneres:
It's such a weird thing that people have such strong opinions about breastfeeding. It's a child, and it needs to eat. Strong opinions about things that don't affect their life at all. I'm feeding my kid. Would you rather him scream? Because he's very capable of that, too.
Though there is absolutely nothing wrong with posing for photos with as much or as little clothing as one desires, there is definitely something wrong with policing a mother over breastfeeding (of all things) and yet not another woman who posted a similarly nude photo just for the sake of it. It continues to illuminate the seriously warped and misguided ideas that are commonly held about breastfeeding, the purpose of breasts, and the ludicrous notion that nudity for advertisements or self-fulfillment is celebrated, but in the context of nursing, is unacceptable.
Check out Romper's new video series, Bearing The Motherload, where disagreeing parents from different sides of an issue sit down with a mediator and talk about how to support (and not judge) each other's parenting perspectives. New episodes air Mondays on Facebook.