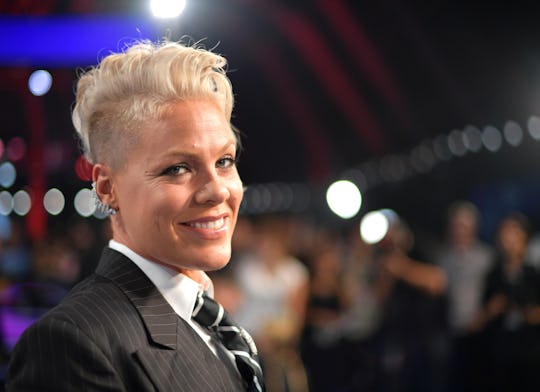 Matt Winkelmeyer/Getty Images Entertainment/Getty Images
Pink Has A Message For People Who Shame Her For Breastfeeding In Public
Of all the ridiculous reasons people find to mom-shame, breastfeeding is easily one of the most appalling. But, fortunately, many celebrity moms have spoken out about the need to normalize breastfeeding. And as one of the most powerful proponents of movement, the singer Pink has a message for people who shame her for breastfeeding in public. Spoiler alert: they should get over it.
In a clip from Pink's latest appearance on The Ellen DeGeneres Show, the singer opened up about the stigma that the public has placed on breastfeeding in public and her own personal experiences with it. DeGeneres expressed her confusion by people who are offended by breastfeeding in public. In the clip, the host said to Pink:
It's such a weird thing that people have such strong opinions about breastfeeding. It's a child, and it needs to eat.
In response, Pink pointed out the incredulity of the shaming and the basic need for children to eat:
Strong opinions about things that don't affect their life at all. I'm feeding my kid. Would you rather him scream? Because he's very capable of that, too.
Pink has been very vocal about her support for public breastfeeding for some time now. She has even posted several photos of herself openly nursing her little ones on Instagram. She and her husband, Cary Hart, have two children together — 6-year-old Willow and 8-month-old Jameson — both of whom Pink proudly breastfed.
This isn't the first time that Pink has talked breastfeeding while on a talkshow. She appeared on The Alan Carr Chatty Man Show while still breastfeeding her daughter Willow. She shared that sometimes people are offended by her open breastfeeding and the host asked:
Are you one of those militant breastfeeder women, like in the middle of Starbucks, you get it out and are like "yeah what you looking at?"
The singer responded that she is willing to fight for her right to breastfeed in public. According to the interview, she perfectly replied:
I do, I do on purpose. I think breastfeeding is healthy and natural, and it's a comfort to my baby, so I can give a sh*t what somebody else thinks. The first time we went out to a restaurant, there was a guy who walked by, I had a cover on… and this guy walks by and was like "Uughhh." He was just disgusted. I was like "You didn't get enough hugs when you were little."
Pink is in good company as far as celebrity moms who breastfeed in public goes. Olivia Wilde, Alyssa Milano, Angelina Jolie, and many more have made public statements about their right to breastfeed their children without hiding.
And it's important that Pink keeps speaking out like this, because celebrities play a major role in the conversation about normalizing breastfeeding. No mom should be ashamed to feed her children, regardless of where she is or who is around.
Check out Romper's new video series, Romper's Doula Diaries: