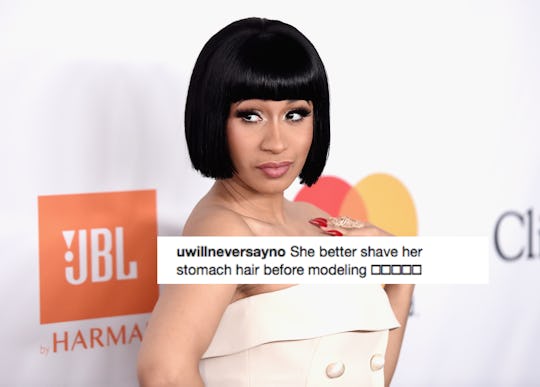 Nicholas Hunt/Getty Images Entertainment/Getty Images
People Are Shaming Cardi B For Her Stomach Hair In This Photo, & It's BS
There are so many great things to say about Cardi B and Bruno Mars' Grammys number. The duo's performance of their 1990s-inspired song "Finesse" was so dope that front-row dwellers Beyoncé, JAY-Z, Chrissy Teigen, and John Legend were all jumping to their feet by the end of the first verse. Their viral music video basically came to life, and fans couldn't get enough. However, the killer vocals, dance moves, and '90s designer outfits were not enough to keep the trolls at bay. In the comments section of an Instagram photo showing off the rapper's awesome ensemble, people criticized Cardi B for having hair on her stomach.
Fashion house Moschino designed Cardi B's outfit, which was a set of color-blocked shorts and a matching bra, topped off with a matching jacket, hat, and necklace. Following the awards show, Moschino shared several photos of Cardi B on Instagram rocking the look. In one of the photos, a small amount of natural hair on Cardi B's stomach is visible. Because — news flash!!! — Cardi B is a human just like you, and she is not required to remove hair from her body anywhere she doesn't want to. But still, that didn't stop commenters from criticizing her for the stomach hair.
"She better shave her stomach hair before modeling," commented on user. "Y'all see her happy trail though 😂 she needa shave that stomach," added another. "She need to shave that stomach," reads yet another comment.
The comments probably didn't bother Cardi B, queen of not giving a damn — but that didn't stop her loyal fans from jumping to her defense. "No she doesn't. You need to shave your opinions and #stopbodyshaming others," someone commented. "No women needs to please you, if she wants to shave she will do so just like you," added another.
"Let the haters hate boo. While they are slaves to jobs they hate, you're living your dream. And who cares about the fuzz? Our bodies aren't meant for men to begin with," wrote another fan. And one more fan noticed that some of the haters were men, so she told them off in a much-needed way: "All these sad boys commenting about Cardi's belly hair... boy, don't worry — she wouldn't look twice at you anyway!! 🙄"
Whether Cardi B intended to make a statement with her stomach hair, it's awesome that she clearly DGAF what others think of her — and she has proven that on multiple occasions. Last year, when she noticed people criticizing her for name-dropping her fiancé, Offset, in her music, (as well as her Instagram stories) she shut them down. "Shit when I'm about to die last word out my mouth is Offset," she wrote on Instagram. Complex wrote at the time, "But Cardi doesn't care what we think, which is why we fell in love with her in the first place."
And when someone leaked a video of Cardi B from her stripper days, the rapper issued the greatest comment ever on Twitter. "People keep posting the nude videos of me like if I wasn't a stripper before ... You know there's videos of me stripping with my titties & ass out on YouTube already right? Anyways I know I know I got a nice body right," she tweeted, to the tune of more than 180,000 likes.
Shaming someone for their body hair — or for anything about their bodies, for that matter — is never OK. Not to mention, women letting their body and facial hair grow out has actually become a trend in recent years. Yara Shahidi made headlines for celebrating her natural unibrow; Paris Jackson has shown off both her leg hair and her armpit hair; Miley Cyrus has casually displayed her armpit hair; and Bella Thorne has even shut down haters who criticized her for not shaving her legs.
But aside from current trends: if it's not on your body, it's none of your business. Hair isn't hurting anyone.
Check out Romper's new video series, Romper's Doula Diaries:
Watch full episodes of Romper's Doula Diaries on Facebook Watch.