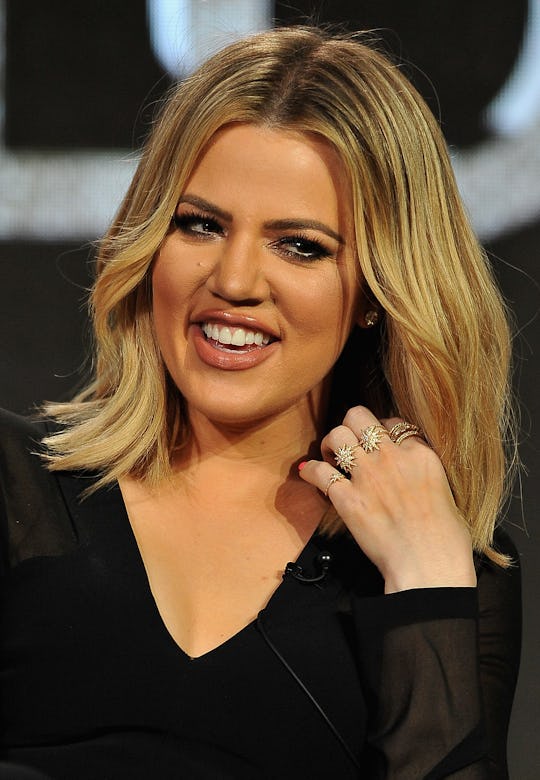 Jerod Harris/Getty Images Entertainment/Getty Images
People Are Shaming Khloé Kardashian's Bump In This New Photo & Ugh, It's So Annoying
Does anyone else remember the dark, confusing days of 2017? When fans weren't 100 percent sure if Good American designer and reality darling Khloé Kardashian was actually pregnant? But still, everyone was sort of hoping it was true because let's face it; Khloé is a serious fan favorite and so many people were rooting for her? Well, it seems the dark days are over. Not only has Khloé confirmed her pregnancy, she's actually sharing her joy all over the place. Which is why people complaining about Khloé's bump size in this photo is so frustrating... I mean, these are the days in the light, people! Be happy for her and don't take these updates as an opportunity to critique her body.
When the Revenge Body host posted a recent pic of herself to Instagram to celebrate six months of a healthy pregnancy (because let's try to remember, that's the part to celebrate), the comments came in fast and furious. Many of her 71.2 million Instagram followers simply wanted to say congratulations to Khloé on her happiness. And she certainly looks happy as a clam; she's in love with boyfriend, Cleveland Cavaliers' player Tristan Thompson and she's about to become a mother after years of being everyone's favorite aunt.
While some fans were genuinely happy for her, there were far too many comments about her pregnancy bump being "tiny."
Here's the thing; I actually think lots of people mean this as a compliment. Like these Instagram users who wrote:
your so small for 6 months!!!
Such a tiny bump n lovely. Congratulations koko!
You are so tiny. Absolutely stunning! ❤️
Clearly, these comments were not meant as insults. But there's a subtle finger-pointing happening here that can be difficult to shrug off, even if you're Khloé Kardashian. After years and years of being shamed for being too heavy (according to some people's archaic standards), Khloé doesn't need to go through her pregnancy worrying about whether her bump is tiny or large or anything in between. Because commenting on the size of her bump, however anyone means it, is all about judgment. And judgment is so incredibly boring.
This isn't the first time Khloé has had to deal with online judgment since officially announcing her pregnancy via Instagram in December. Khloé has been sharing her rigorous workouts on Snapchat for some time, but once she announced her pregnancy the mom-shamers came out in full force. To the point where Khloé took to Twitter to call out the critics and threaten that she would "stop posting sh**" if it didn't come to an end.
This is the nature of the game in the age of the internet, I suppose. And few people are better versed in dealing with shamers of all kinds than Khloé Kardashian, unfortunately for her. But that doesn't mean it should continue. As Khloé tries to enjoy her final trimester of being pregnant with her baby boy, perhaps everyone could knock it off with the size comments in general. Instead of these sort of comments on her Instagram posts:
she's not that big is she!
Your so small to be 6 moths but idc congratulations gorgeous
People could comment like these Instagram users.
I am so happy for you, Khloe! You're going to be such a fabulous momma bear!
ahhhhhh so damn happy for you !!! you deserve this ❤️🙌🏼
I know; it seems like calling someone tiny is a compliment, but think about that for a minute. The tinier you are, the better you are? Wouldn't it be better to lay off the physical "compliments" and try offering simple congratulations?
Because being thin or tiny shouldn't have to be an aspiration, for a pregnant woman or anyone else.
Check out Romper's new video series, Romper's Doula Diaries:
Watch full episodes of Romper's Doula Diaries on Facebook Watch.