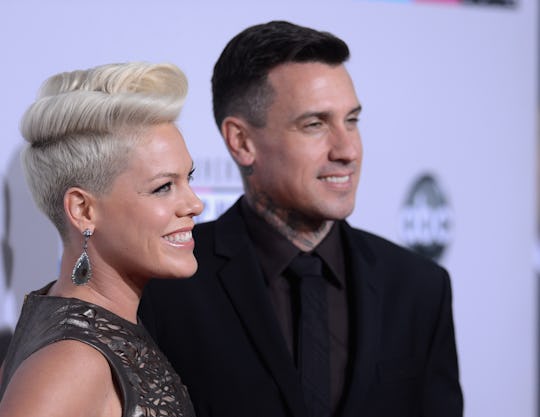 Jason Merritt/TERM/Getty Images Entertainment/Getty Images
People Are Shaming Pink & Carey Hart For Putting Their Son Jameson On A Skateboard
I must confess: Pink is probably one of my biggest personal #MomGoals. She rolls with everything — from being an international music superstar to a mom of two and a whole lot of awesomeness in between. Even before she became a mom, she had been an outspoken and empowering feminist icon in the music industry, and now that she's the mom of two, it's only made her shine even brighter. One of the coolest things about her is that Pink is the queen of shutting down parent-shaming, and she doesn't let haters get in the way of parenting on her own terms, without fear of what others think.
That's why it's NBD when husband Carey Hart, a professional motocross motorcyclist and racer, has no qualms putting their 10-month-old son Jameson on a skateboard and taking him for a little ride — and I do mean little. In a short clip posted to Instagram on Tuesday, Jameson sits calmly on the skateboard headed towards his dad over the span of a couple of feet. Jameson, with his little chub chub bare feet and sun hat, is just too damn cute. Even so, there were plenty of people who commented about how unsafe it was to allow Jameson to sit on that skateboard and "ride" without a helmet. Slow your roll, well-meaning pearl-clutchers: It's time to take a page out of Pink's parenting handbook.
In 2013, Pink lashed out at critics for a similar Instagram moment. Hart took their daughter on a BMX ride, posting pictures to his Instagram and tweeting about their daddy-daughter adventure. People were practically up in arms, calling both Hart and Pink irresponsible parents for letting him take their daughter out on such a dangerous activity. Pink shut down her parent-shamers right quick, tweeting, "If any of u have more experience on a bike than my husband, then I will listen to your opinions on how he should take my daughter for a ride." I think that qualifies as a total parenting mic drop moment.
Pink has been a vocal supporter of attachment parenting, captioning a 2012 Instagram photo of she and her then-infant daughter Willow with, ""I support attachment parenting 100% … And have a very happy and healthy little girl to show for it." Pink is a fiercely protective mama bear to her two kids, 6-year-old daughter Willow and 10-month-old son Jameson. During her acceptance speech for the 2017 VMA Vanguard award, Pink showed the world just how much of a fighter she is for her kids, especially her daughter, Willow. Pink used her entire acceptance speech to talk about how she talked to her daughter about beauty standards and to not change who she is for others.
We don't change. We take the gravel and the shell and we make a pearl. And we help other people to change so they can see more kinds of beauty.
And as empowering as Pink can be, she also has those total helicopter mom moments, too, like when she Instagrammed her daughter a video of herself while hanging out on her husband's motorcycle last month — just to oh you know, to let her daughter how things were going while she was out.
But as protective as she is for her daughter, Pink is a champion for her son Jameson. And she's a total badass fearless parent, at that, too. In a recent Instagram, Pink showed fans a glimpse into Jameson's first picnic, complete with him wearing his big sister's big pink sun hat, to boot.
Pink even manages to take the whole "my celebrity life is stalked by the paparazzi" in stride, too. In a recent Instagram, Pink called them out for their uber-creepy stalking, but noted that sometimes, they actually do get some good shots of her kids. I'm pretty sure if I was as famous as Pink, I would not be handling paparazzi as calmly and casually as she does.
So when Jameson rolls out for what might have been his very first skateboard ride at 10 months, Pink rolls right along with it — because she is here for none of anyone's parent-shaming B.S.
Watch Romper's new video series, Romper's Doula Diaries:
Check out the entire Romper's Doula Diaries series and other videos on Facebook and the Bustle app across Apple TV, Roku, and Amazon Fire TV.