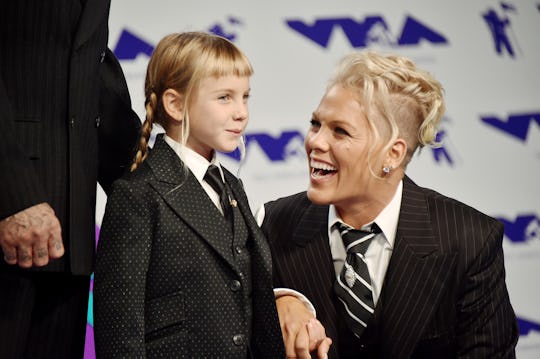 Frazer Harrison/Getty Images Entertainment/Getty Images
Pink's Message To Her Daughter At The VMAs Will Make You Speechless
At the 2017 MTV Video Music Awards, fans expected a big performance from music icon Pink as she received the Video Vanguard award, honoring her amazing career. But the transcript of Pink's incredible VMAs speech is more than just a music legend feeling grateful — it's exactly what the world needed to hear.
After an incredible 17-year career, Pink had a lot of amazing songs to choose from during her performance Sunday night. But rather than focusing on a new hit single or reimagining her self, as so many artists do on big nights like tonight (oh hey, T. Swift), Pink decided to hone it in for her fans with an incredible, emotional medley of some of her greatest hits. She transitioned all of those songs, including "Get the Party Started" and "Raise Your Glass," into her new single, "What About Us." It was moving, iconic, and a fantastic way to lead into her acceptance of the Vanguard award.
But she didn't stop there.
After accepting the award from Ellen Degeneres, still out of breath from her performance, Pink began an incredible speech that is exactly what the world needs to hear right now. The transcript follows:
"I know I don't have a lot of time, but if I may tell you a quick story. Recently, I was driving my daughter to school and she said to me, out of the blue, "Mama?" I said, "Yes, baby?" She said, "I'm the ugliest girl I know." And I said, "Huh?" And she was like, "Yeah, I look like a boy with long hair." And my brain went to Oh my god, you're 6. Why? Where is this coming from? Who said this? Can I kick a 6-year-old's ass, like what?"
"But I didn't say anything. Instead I went home, and I made a Powerpoint presentation for her. And, in that presentation, were androgynous rockstars and artists that live their truth, are probably made fun of every day of their life, and carry on, wave their flag, and inspire the rest of us.
"And these are artists like Michael Jackson and David Bowie and Freddie Mercury and Annie Lennox and Prince and Janis Joplin and George Michael, Elton John, um, so many artists — her eyes glazed over.
"But then I said, 'You know, I really wanna know why you feel this way about yourself.' And she said, 'Well I look like a boy,' and I said, 'Well what do you think I look like?' And she said, 'Well you're beautiful.' And I was like, 'Well, thanks. But when people make fun of me, that's what they use. They say I look like a boy or I'm too masculine or I have too many opinions, my body is too strong.'
"And I said to her, 'Do you see me growing my hair?' She said, 'No, Mama.' I said, 'Do you see me changing my body?' 'No, Mama.' 'Do you see me changing the way I present myself to the world?' 'No, Mama.' 'Do you see me selling out arenas all over the world?' 'Yes, Mama.' 'OK! So, baby girl. We don't change. We take the gravel and the shell and we make a pearl. And we help other people to change so they can see more kinds of beauty.'
"And to all the artists here, I'm so inspired by all of you. Thank you for being your true selves and for lighting the way for us. I'm so inspired by you guys. There's so much rad sh*t happening in music. And keep doing it. keep shining for the rest of us to see.
"And you, my darling girl, are beautiful, and I love you.
"Thank you, MTV. This is a really special night. Thank you, Ellen. I couldn't love you more. Thank you guys. Goodnight."
Basically, everyone's crying.
Pink managed to weave a story about her daughter, one that is heartbreaking and mom-inspiring, into one about following your true self, listening to what you love and who you are, and becoming a total bad*ss while doing it. That Powerpoint presentation? Pure genius. And mentioning it to an audience that is made up of dreamers, icons, fans, and kids just like her daughter, Willow, is the ultimate in goals.
Pink has never strayed from being herself — ever. It's exactly why she accepted the Vanguard award tonight. People love her for who she is, and she is unabashedly herself. And giving that confidence to her child and to the rest of the world? Well, it's priceless. If Pink's VMAs speech could be played as an anthem to everyone, every day, I think it would do the world a lot of good.