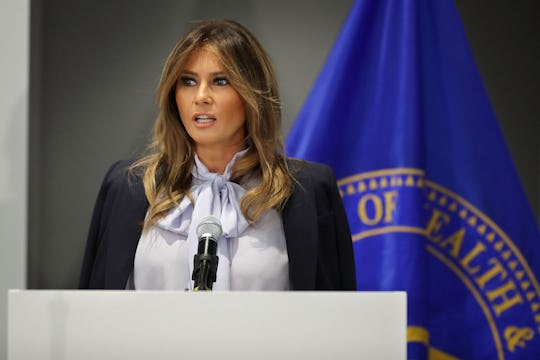 Chip Somodevilla/Getty Images News/Getty Images
Melania Trump's Speech At A Cyberbullying Prevention Summit Isn't Winning Anyone Over
First Lady Melania Trump attended a conference about cyberbullying prevention on Monday in Rockville, Maryland, to discuss her "Be Best" campaign. Although many people are still struggling to figure out what the campaign specifically aims to do, its official website talks about "encouraging children to BE BEST in their individual paths," especially where it concerns social media. And at the conference, Melania called for stakeholders to teach the next generation to "conduct themselves safely and in a positive manner in an online setting," CNN reported. Yup, Melania made a plea for healthy discourse on the internet just days after her husband, President Donald Trump, took to Twitter to call one of his former employees a "lowlife" and a "dog," according to ABC News. Unsurprisingly, people have *a lot* of opinions about Melania Trump's speech at the cyberbullying prevention summit, and most of the feedback isn't positive.
Out of all the important causes out there to choose from, Melania decided to make it her mission to combat bullying on social media shortly after Trump secured the presidency in November 2016. Of course, many people pointed out the irony of Melania's campaign given Trump's ongoing cyberbullying and relentless attacks against anyone who disagrees with him, feedback that largely went unanswered. Melania, for reasons unknown, remains committed to finding a solution to a problem Trump is committed to perpetuating. You can't make this stuff up.
Still, as much as Melania's plight is hypocritical given her attachment to Trump, no one can deny cyberbullying is a real issue affecting countless people on a daily basis. And at the cyberbullying prevention event on Monday, Melania touched on this crisis in her speech. Melania said in a portion of her message, as reported by The Hill:
Let's face it: most children are more aware of the benefits and pitfalls of social media than some adults, but we still need to do all we can to provide them with information and tools for successful and safe online habits.
Melania also addressed the need for older generations to get involved, saying:
In today's global society, social media is an inevitable part of our children's daily lives. It can be used in many positive ways, but can also be destructive and harmful when used incorrectly. This is why Be Best chooses to focus on the importance of teaching our next generation how to conduct themselves safely and in a positive manner in an online setting.
Everything Melania said in her speech is true, like her point that kids are all too familiar with the "pitfalls" of cyberbullying. In fact, "over half of adolescents and teens have been bullied online," according to Bullying Statistics.
Additionally, you can't argue it's not imperative for stakeholders to intervene in this epidemic. Parents, teachers, and people in office need to work together to develop tangible solutions to better prevent cyberbullying ASAP.
But there's one little problem with Melania's message — Trump. Although Melania isn't responsible for Trump's behavior, she needs to denounce it if she wants to discuss cyberbullying on a national platform. To this day, Melania has yet to criticize Trump's continued attacks on his adversaries. Take the time Trump called Morning Joe co-host Mika Brzezinski "low I.Q. Crazy Mika," a tirade Melania defended. "As the First Lady has stated publicly in the past, when her husband gets attacked, he will punch back 10 times harder," Melania Trump's spokeswoman Stephanie Grisham said in a statement, according to Fortune.
Or what about when Trump called his former adviser, Omarosa Manigault-Newman, a "crazed, crying lowlife" and a "dog"? Crickets from Melania. It's Melania's silence in moments like these that draws criticism — not her decision to support an important cause.
Following Melania's speech, many people took to Twitter to criticize her hypocrisy.
"First lady Melania Trump at anti-cyberbullying event: 'Social media...can be used in many positive ways, but can also be destructive and harmful when used incorrectly' - neglects to add the obvious, 'Take, for example, my husband...," someone penned, according to Twitter.
"First Lady Melania Trump is married to the CyberBullying Champion Of The World," another person chimed in. "He's every parents nightmare. Not a role model. #ThugPresident. What hypocrisy."
"Melania trump speaking about her nonexistent Be Best, cyber bullying campaign whilst her disgusting husband attacks people on Twitter every single day without fail as well as her being a birther is hypocrisy at its worst texture," someone else said.
"Melania Trump speaks at a cyberbullying summit today," one person commented. "Maybe tomorrow Karen Pence will Grand Marshall a Pride parade. Then Wednesday, Paul Ryan's wife can lead a living wage rally. Sure, why not. #BeBest."
Another commenter pointed out:
As Melania attended her 'Be Best' anti-cyberbullying panel discussion today, which included talk of adults modeling 'best behaviors,' per pooler @katierogers, Trump tweeted calling John Brennan 'the worst CIA director in our country's history.'
Yep, it's clear people aren't impressed with Melania's latest attempt to denounce cyberbullying. If only Melania would actually listen to her critics, maybe she'd have a shot at being taken seriously. Until then, it looks like people will call out her campaign against cyberbullying for what it is — hollow.