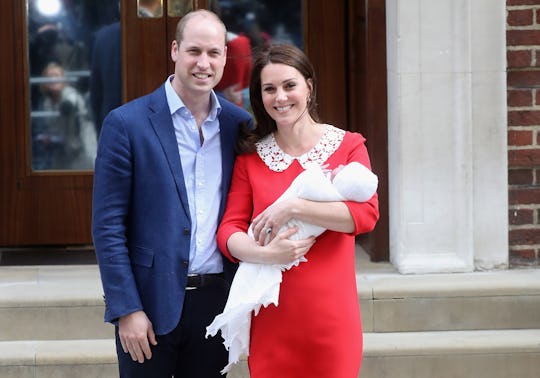 Chris Jackson/Getty Images Entertainment/Getty Images
People Think Prince William Accidentally Announced The Royal Baby's Name
There appears to be a new trend when it comes to welcoming famous babies into the world: release information in excruciatingly slow drips. The British royal family doesn't appear to be an exception to that particular rule. Now that Prince William and his wife, the Duchess of Cambridge, have welcomed their third child, they have so far released the baby's sex and weight. And fans are desperate to find out the name next. In fact, people think Prince William accidentally announced the royal baby's name, but it's probably a good idea if you don't get your hopes up.
The prince was on hand at Westminster Abbey on Wednesday, just two days after welcoming his third child at the Lindo Wing at St. Mary's Hospital in London, England. Their newest little one is a baby boy, who was born at 8 pounds and 7 ounces on Monday. He joins his nearly 3-year-old sister Princess Charlotte Elizabeth Diana and 4-year-old brother Prince George Alexander Louis. And speaking of Alexander... could this be the name of the newest prince? As Prince William was answering questions from the crowd at Westminster Abbey, Australia's High Commissioner Alexander Downer jokingly hinted that his own name might be a good one for the new prince. And Prince William responded, "Funny you should say that," according to The Telegraph.
So what are the chances that the new prince could be named Alexander? Well, British odds-makers haven't even put the name into top contention for people betting on the possibilities; the two top choices are apparently Albert and Arthur. The name Phillip was also considered a popular bet, especially considering Prince William's full name is William Arthur Phillip Louis, according to People. And let's not forget that his own grandfather is called Prince Phillip. But there's plenty of family history behind the name Alexander as well, if that's the new baby's name.
Queen Elizabeth II's middle names are Alexandra Mary, and Prince William's great-great grandfather on Prince Phillip's side was Prince Louis Alexander of Battenburg. And the people of social media seem to like the idea of a young Prince Alexander, which admittedly does sound significantly more modern than Albert or Arthur.
But there is the small issue that Alexander is one of Prince George's middle names. I feel like the Duke and Duchess of Cambridge are more inventive than to just reuse a middle name from their older son. There are a whole lot of names in the planet; would they really just recycle a name from their only other son?
Of course the tradition of using different variations of the same family names goes back a long way in the British royal family, as does honoring a family member by naming your child after them. Princess Charlotte Elizabeth Diana is named after her great-grandmother, Queen Elizabeth II, and her grandmother, the late Princess Diana. And in a nod to Kate Middleton's own family, Charlotte is her sister Pippa Middleton's middle name. Prince George is named after his grandfather, Prince Charles (whose middle names are George Phillip Arthur), as well as potentially his own father Prince William (whose middle name is George). In other words, if you're expecting a weird, inventive, off-the-wall name for the third royal baby, you're going to be sorely disappointed. That is not how they roll.
At any rate, it shouldn't be terribly long before the Duke and Duchess of Cambridge officially announce their new son's name. They waited two days to announce the names of both their older children, so logic follows that the new baby's name will be announced on Wednesday.
And I will be beyond surprised if that name is Alexander.
Check out Romper's new video series, Bearing The Motherload, where disagreeing parents from different sides of an issue sit down with a mediator and talk about how to support (and not judge) each other's parenting perspectives. New episodes air Mondays on Facebook.