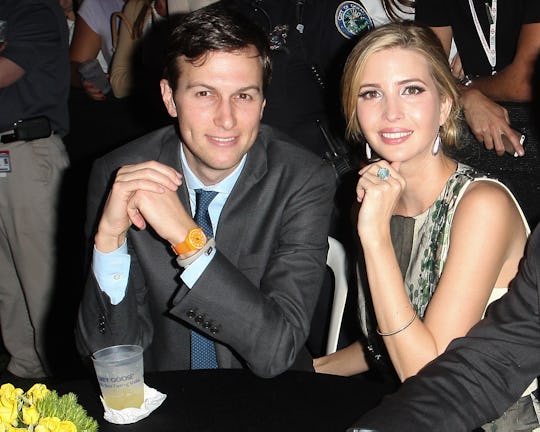 John Parra/Getty Images Entertainment/Getty Images
Here's The Truth Behind That Ivanka Trump Pregnancy Rumor
Well, there's been a new pregnancy rumor floating around the internet, and for once it's not a member of the KarJenner clan. This time it's from a family that is slightly more presidential. But perhaps it's not really what people think. Here's the truth behind that Ivanka Trump pregnancy rumor that's been making the rounds.
On Wednesday, Ivanka Trump, President Trump's daughter and adviser, was looking to wish her husband and fellow presidential adviser Jared Kushner a happy birthday. And because this is the age of social media, what better way to say it than with an Instagram post? The mother-of-three posted a picture where she is clearly pregnant beside her husband along with the caption:
Happy birthday, Jared! Thank you for being the most amazing father, husband, and best friend I could have dreamed of. Here's to you!
Many of her more than 4 million followers assumed this was a way of announcing her pregnancy with a fourth child, rather than simply wishing her husband a happy 37th birthday. Instagram users posted comments like:
Happy birthday to your amazing husband. You two make a beautiful couple. Congrats on the pregnancy😍😍😍
Omg are you pregnant! Yay Number 4
It seems those words of congratulations were slightly misplaced; the photo was a throwback. This picture was first shared back in January 2016, when Ivanka was expecting her youngest child, 1-year-old son Theodore. At that time, Ivanka posted the picture with the caption:
I am looking forward to a year filled with love, laughter and adventure with my incredible husband, Jared, and our (growing) family. ❤️ #HappyNewYear #2016
Ivanka, who is also the mother of 6-year-old daughter Arabella and 4-year-old son Joseph, later added the hashtag #Throwback to clear up any confusion.
It did seem fairly unlikely that Ivanka would be ready to have another child when she once told People that she's "exhausted 90 percent of the time," raising her three kids. She also admitted at the time that her "life was chaotic," and this was before she detached herself from her personal business dealings with the Ivanka Trump brand to move to Washington, D.C. to work in the White House. One can only imagine that life would have gotten considerably busier in the interim, what with uprooting her kids and taking on a hugely stressful, and reportedly unpaid, position at the White House.
This isn't the first time this week Ivanka's social media presence has been making waves; after Oprah Winfrey's groundbreaking speech about female empowerment and racial equality at Sunday night's Golden Globe Awards, the first daughter sent out a tweet of support.
While Ivanka has reportedly been working towards several improvements in the White House related to things like a child care tax credit, a World Bank fund for female entrepreneurs, and family leave legislation, many detractors called her out for her support of Winfrey. Because, as some social media users pointed out, it's difficult to support a movement of women speaking out against sexual harassment when your father has at least 16 women accusing him of sexual misconduct. Especially when Ivanka has never condemned her father's alleged behavior, or spoken out in support of his accusers. Trump has called the allegations false or has denied knowing the accusers. A representative for Trump has not responded to multiple requests for comment.
One of Ivanka's detractors was Alyssa Milano, who tweeted a message encouraging Ivanka to put her money where her Twitter finger is.
As 2018 gets rolling, here's hoping Ivanka manages to find her voice as a woman of influence in the White House. That she manages to affect positive change, and truly support her fellow women.
And here's also hoping that the next time she posts a throwback pic of herself pregnant, she actually remembers to include the pivotal #Throwback from the get-go.