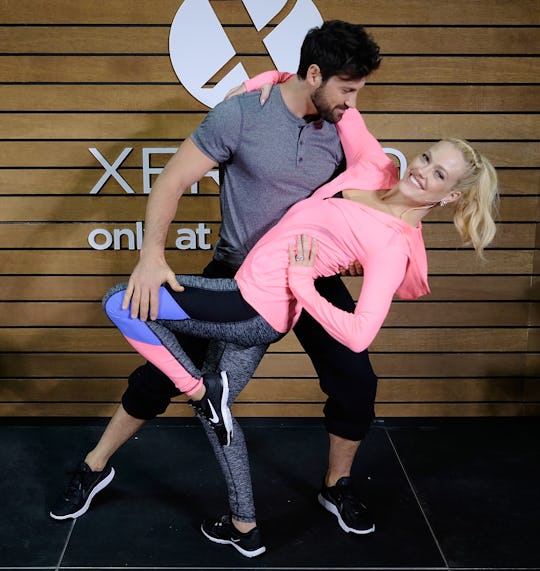 Dimitrios Kambouris/Getty Images Entertainment/Getty Images
'DWTS' Peta & Maksim Welcome Baby Boy
Who doesn't love news of a celebrity baby? Especially the baby of two gorgeous, talented dancers who are ringing in the new year with a little boy? Everyone can get on board with that kind of news these days. So when it was announced that Peta Murgatroyd and Maksim Chmerkovskiy welcomed their baby on Wednesday morning, the Dancing With The Stars family was just as elated as the rest of us.
"Shai Aleksander Chmerkovskiy," proud new dad Chmerkovskiy tweeted on Wednesday morning, revealing the little one's name. "01/04/17 5:34am."
Maksim's brother, Val Chmerkovskiy, was the first to share the news that the baby's birth was imminent; the dance pro took to Instagram on Tuesday to explain to DWTS fans he would not be at the Richmond, Virginia Dancing With The Stars: Live! show because of some exciting news he couldn't wait to share... he was about to become an uncle. Chmerkovskiy captioned the post: "Amazing news. I'm about to be an uncle!" He went on to say,
Richmond, Virginia, I love you guys. As all of you know, I'm expecting to be an uncle very soon. My sister-in-law Peta Murgatroyd is literally delivering the baby as soon as I'm done with this video hopefully. Family means the most to me so I'm with them now. Sadly I'll be missing the show tonight in Richmond but I'll be back in Lancaster tomorrow. But I'll be back on the road tomorrow and somehow I promise I will make it up to you, Richmond, Virginia. Thank you so much and enjoy the show.
The DWTS couple went to the hospital on Monday, with Chmerkovskiy posting a pic of Murgatroyd beautifying before childbirth to Instagram with the caption:
But first... a little makeup.
Chmerkovskiy and Murgatroyd dated on and off for three years before getting engaged in 2015; Chmerkovskiy famously got down on one knee during an episode of DWTS to ask Mergatroyd to marry him.
The couple plan to marry later in 2017. For now, they are set to enjoy some private time with their little boy (the first child for both Ukranian-born Chmerkovskiy and native New Zealander Murgatroyd). Chmerkovskiy is taking some paternity leave to be home with his son, he told People in October, and couldn't be more excited about it:
I come from a dirt broke family. I just started to be able to afford things in 2005 when [Dancing With The Stars] started. For me to be able to take time off in this way … [to have] what we have to enjoy and be proud of, that's anybody's dream.
The couple enjoyed a lavish baby shower in New York City last month, with DWTS castmates (like Chmerkovskiy's brother Val, for instance) in attendance to celebrate their new addition. In a picture on her Instagram account, Murgatroyd showed off her adorable baby bump in front of a colorful display and a delicious looking cake. "I want a baby shower EVERY weekend," she joked in the caption.
With little Shai all bundled up and soon to be headed home with his elated parents, it's a safe bet that there will be plenty more sweet photos to come. Congratulations to the happy family!