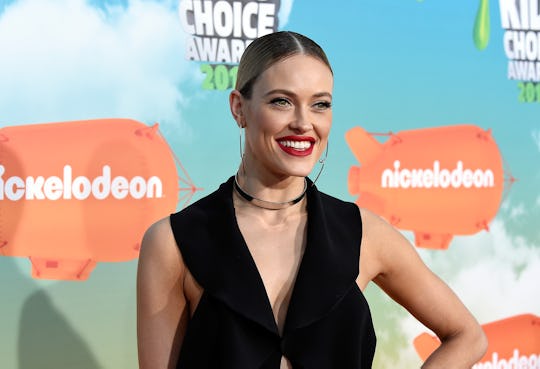 Frazer Harrison/Getty Images Entertainment/Getty Images
Peta Murgatroyd's Breast Pump Selfie Is Real AF
The joys of motherhood can make you laugh, they can make you cry, and there's never a break from it all even if you're about to perform on Dancing With the Stars. Just before she put on her dancing shoes this week, Peta Murgatroyd posted a breast pump selfie on her Instagram and the caption alone proves that she knows how to find the humor in the crazy world of parenting. "My milkshakes do not bring all the boys to the yard/trailer," the dance pro captioned the photo of herself pumping before the show. "Oh the joys of motherhood!"
The New Zealand native and fiancé Maksim Chmerkovskiy — a Ukranian-American who is also champion on Dancing With The Stars — welcomed their first child together at beginning of the year. According to People, their little boy, Shai Aleksander, was born on Jan. 4, and ever since her son arrived, Murgatroyd's Instagram has been filled with adorable shots of her happy family and the many hilarious moments of motherhood that have come along with it.
In addition to the breast pump selfie, Murgatroyd shared another glamorous photo of herself last month in a white crop top and her breast milk leaking through it. "Oh the joys of motherhood. Leaking boobies are so NOT hot right now... LOL," she joked, completing the post with the hashtag "#mustremembermyboobpads."
This mama's sense of humor about breastfeeding and all of its messiness is hilariously refreshing. Here's the latest example:
And another:
According to Us Weekly, the 30-year-old new mom, who is partnered with Bachelor star Nick Viall on this season of Dancing With The Stars, has "surprised fans" by performing just three months after giving birth. Indeed, she certainly looks fantastic, but she's also been honest with her fans about her postpartum body and the process of getting back into shape.
A little over a week after she came home from the hospital, Murgatroyd shared a behind-the-scenes photo of herself with a caption that will make you want to chant the word "truth!":
Real life: I took this photo 8 days post birth. I left the hospital looking 5 months pregnant. Many people think a woman should shrink right back to her pre-birth weight immediately. That is just not the truth for most. The female body is incredible and resilient, but healing and strengthening take time. Now it's time for patience and hard work. Lots of love to all the new mamas out there on the journey.
When she's not wowing everyone on the dance floor, Murgatroyd is busy making them laugh by documenting and having fun with the many challenging, time-consuming, and messy parts of parenting — and it's just one of the many reasons why fans can't get enough of her.