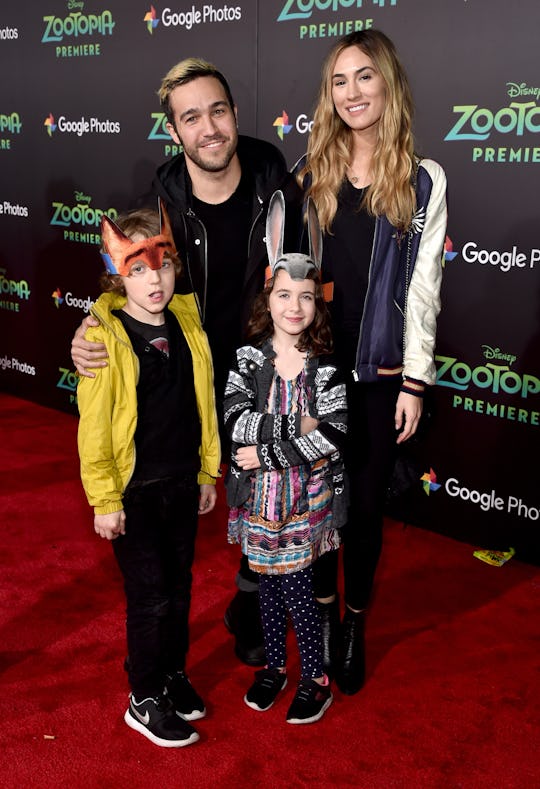 Alberto E. Rodriguez/Getty Images Entertainment/Getty Images
Pete Wentz & Meagan Camper Welcomed A Daughter, & Marvel Fans Will *Love* Her Name
Sometimes, things fall perfectly into place. And that couldn't be more true for Pete Wentz and Meagan Camper, who just welcomed a baby daughter. Wentz, best known for being in Fall Out Boy, and Camper, a model, announced the arrival of their baby girl on Mother's Day, a pretty fitting day for a mother to welcome a child. And not only that, but they gave their new baby a name that is already on the tongues of many moviegoers this week.
Wentz and Camper, told People in a statement: "We are so happy to welcome Marvel Jane Wentz into the world. Her brothers are both very excited about their brand new kid sister."
In case you haven't been to the movies recently, Avengers: Infinity War, the latest chapter in the Marvel Cinematic Universe, is the biggest flick in theaters right now (in terms of how much money its made). Not to mention, news recently broke that the movie has become the fifth biggest film in history, globally, as well as the the eighth biggest domestic release of all time, CNN reported.
Wentz and Camper did not disclose if baby Marvel's name had anything to do with Marvel's superheroes, if it was based on The Marvelous Mrs. Maisel, or if they simply couldn't stop marveling at how cute she was. However, the caption of Wentz's Instagram post does drop a hint.
In a photo shared by Wentz on Instagram, it's clear that the whole family was excited to welcome baby Marvel. In the picture, Camper is resting in a hospital bed with baby Marvel in her arms. She is surrounded by Wentz, Bronx, 9 (Wentz's son with Ashlee Simpson), and Saint, 3, who Camper and Wentz welcomed in 2014. The newly-minted father-of-three captioned his Instagram announcement:
So excited to introduce Marvel Jane Wentz. Feeling so grateful that she's here... annnnd she's already ready to takeover the world ❤️🌎 happy Mother's Day @meagancamper and all the moms out there. We ❤️ you.
Hmmm... is it just me, or does that whole "take over the world" bit seem like a nod to the Marvel universe?
Camper and Wentz first announced that they were expecting on New Year's Day 2018, reported Us Weekly. The musician Instagrammed a photo of his two sons holding a pink gift box, captioned:
Happy New Year! We're kicking the year off with news of the best gift yet: 👧🏻 coming to our family in 2018... love Pete, Meagan, Bronx and Saint.
Assuming Camper actually gave birth on Mother's Day (or at least sometime in the week preceding it), that would have put her at about five months pregnant at the time of Wentz's announcement. It makes sense that the couple waited a bit longer than is the norm to announce Camper's pregnancy, considering how private they seem to be on social media.
Unlike many other celebs, Camper and Wentz kept her time expecting on the DL, refraining from sharing constant "bumpdates" and other info about her pregnancy. In fact, Camper has only posted on Instagram twice since Wentz announced her pregnancy — once on Valentine's Day, and one other time in February to give a quick bump update.
Despite them keeping the details of her pregnancy quiet, it's clear that Camper and Wentz were so excited to be welcoming their first daughter. After announcing they were expecting in January, Wentz opened up about bringing a girl into the mix of his two sons. He told People:
I see my friends who have daughters, and it seems like a whole different kind of love that they have for each other, so I look forward to that being a completely new journey ... hopefully it'll bring some balance to our home!
Congrats to the happy fam!