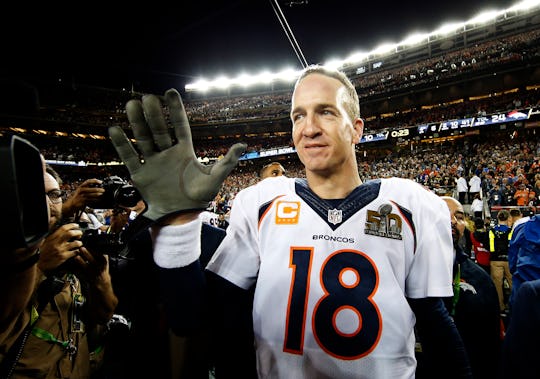 Peyton Manning Kisses Papa John (Yes, That Papa John) After Super Bowl Win — VIDEO
"Peyton, you just won Super Bowl 50. What are you gonna do now?" "I'm gonna kiss Papa John." Yeah, that's not the answer you thought you'd hear, right? But it is exactly what happened following the Denver Broncos' 24 - 10 victory over the Carolina Panthers. In a moment of celebration, the Broncos' quarter back Peyton Manning kissed Papa John of Papa John's Pizza after his team's Super Bowl win. Yes, the Papa John.
Now, I'll admit, I'm a little shocked that Manning chose the face of a pizza chain for his post-victor smooch. One would think he'd run to his wife, his kids, or even her brother and fellow football player Eli Manning. But no. Instead he shared a celebratory kiss with Papa John.
Granted, it makes sense that the two would celebrate the Broncos' Super Bowl victory together. In 2012, Manning became a franchisee for Papa John's Pizza, according to ESPN.com. Since then, he's appeared in numerous commercials for the pizza chain and has become the second face of the brand. (Though, to be fair, those ads aren't nearly as entertaining as Manning's United Way sketch on Saturday Night Live.)
As odd as it may have seemed, it was a sweet moment between two business partner who share a love of football and pizza.
To be honest, I'd probably kiss a pizza maker too — whether I won the Super Bowl or not.