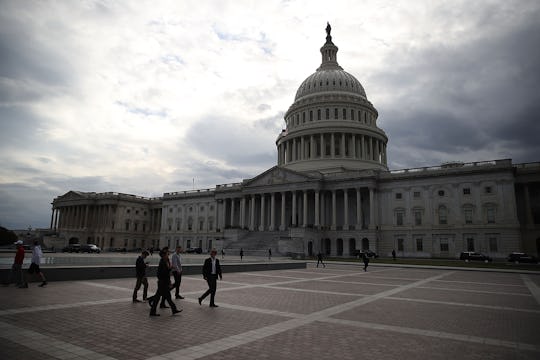 Mark Wilson/Getty Images News/Getty Images
Photo Of Freedom Caucus Discussing The AHCA Is Telling
It's no secret that the House Freedom Caucus is largely made up of right wing conservatives. The fledgling group, founded in 2015, was created by a small number of Republican senators who wanted to rein in what they saw as lavish spending in the White House and to influence major policy, though they've been met repeatedly with criticism from left-leaning colleagues for stonewalling important conversations. And now, if this photo of the House Freedom Caucus discussing the American Health Care Act (AHCA or "Trumpcare") is any indication, the future of women's health care coverage is on the group's chopping block next.
"Appreciated joining @POTUS for meeting with the Freedom Caucus again today," Vice President Pence wrote in a tweet on Thursday afternoon, which featured a photo of himself with the group, all seated around a table. "This is it. #PassTheBill." A dire looking group of mostly white men discussing the future of maternity care, sans female legislative opinion? Cue the foreboding music now.
First, a little background: The House Freedom Caucus met with Trump and Pence on Thursday morning, after repeatedly pointing out that their members carried enough sway to potentially kill the White House' proposed AHCA (to be clear, the Freedom Caucus didn't think Trumpcare went far enough). According to House Freedom Caucus Chairman, North Carolina Rep. Mark Meadows, the group had put forth a list of policies to be included in the Obamacare repeal bill, and claimed that the caucus would stand against the AHCA until those changes were made. According to The Huffington Post, Meadows spoke with journalists late Monday evening to say he was confident the GOP did not have enough votes to pass the bill. "This is a defining moment for our nation, but it's also a defining moment for the Freedom Caucus," he said.
But before you get your hopes up and start thinking the House Freedom Caucus is standing against the AHCA to protect women, the elderly, and the poor who will suffer significantly as a direct result of the GOP's new bill, think again. In reality, members of the House Freedom Caucus have been lobbying against regulations that would require insurance companies to cover such things as maternity coverage and preventative care, according to NBC News. The group, made up exclusively of men, ostensibly wants to make sure federal spending and heavy handed government involvement remains under control.
As some social media users have noted, the primarily white, wealthy male politicians that make up the House Freedom Caucus seems particularly adamant that health care money doesn't get spent on women — a topic of discussion they held on Thursday, while sitting in a room completely devoid of women.
Unfortunately for non-white males of a certain age all over the United States, the Freedom Caucus appears to be gaining steam. As rumors swirled around Washington that AHCA did not have enough votes to be passed this week, Trump and Pence decided to sit down with the Freedom Caucus on Thursday, apparently hoping to persuade the group to vote in favor of the bill by giving in to a least some of their demands (just how many of them will be met is up in the air, as both sides told different stories to the media afterward).
If the requested changes by the Freedom Caucus are met, it'll be another step back for women's health in the United States — and by the looks of Pence's photo, it's a sure bet that none of the people behind the move will feel any of the effects whatsoever.