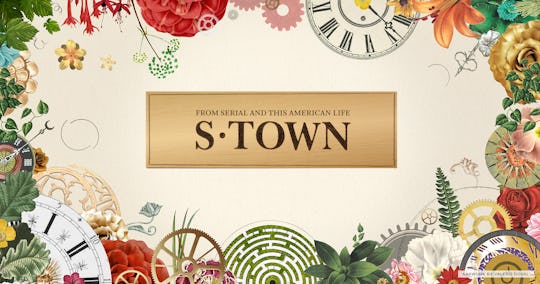 Artwork by Valero Doval
Here's What John McLemore's Gold Dime Looks Like
By now most everyone who's been in withdrawal since the conclusion of the first season of Serial has heard about S-Town, the new podcast released Tuesday from the brilliant team that brought listeners into the life of Adnan Syed (and arguably changed the course of his life) doesn't disappoint. One question everyone already obsessed undoubtedly has though (among many, many others) is, Is there a photo of John B. McLemore's gold dime from S-Town? (NOTE: SPOILERS BELOW.)
To be clear, it's not actually John's dime, it's host Brian Reed's. During his first visit to Woodstock, Alabama, the titular "Sh*ttown" that is itself one of the podcast's main characters, Reed is hanging out with his primary subject, John McLemore, in McLemore's workshop. Reed has quickly come to appreciate that McLemore is one of a kind: a born-and-bred Alabamian equally passionate about ice melt in Siberia and the possible coverup of a possible local murder, which he's convinced Reed to come down to investigate. McLemore is a world-renown repairer of antique clocks, a mostly self-taught chemist, and an employer and patron of local misfits. He takes profanity to new creative heights and is prone to bouts of what Reed terms "virtuosic negativity."
So it's not all that surprising to Reed when McLemore asks him for a coin. Reed hands him a dime, which McLemore drops in a bucket of chemicals that he then connects to a car battery. A reaction takes place, and what results is what John declares a "motherf*ckin' gold plated dime," handing it back to Reed as a souvenir of the reporter's time in "Sh*ttown, Alabama." In the moment, it seems like an anecdote included just to give us a better sense of McLemore, but the dime takes on significance later in the podcast after McLemore's untimely death. Reed values it both as a momento of his time with McLemore, who he grew very fond of, but also evidence of his subject's considerable chemistry knowledge and perhaps even a possible clue as to what he did with the fortune no one can seem to find after his death.
And all of that means that listeners definitely want to see that dime.
Fortunately, they're in luck. This week fan Mike Parise tweeted at Reed, "Awesome work Brian. Got a pic of the dime you'd be willing to share?" and Reed, being the host we need him to be, obliged with a photo of the dime:
The best part of this photo has to be the fact that the dime has been made into a pendant, presumably by Reed as a reminder of McLemore. It's a nice way of keeping McLemore's memory alive — you know, in addition to the excellent and soon-to-be-massively-popular podcast he's created about this strange, larger-that-life man from Alabama.