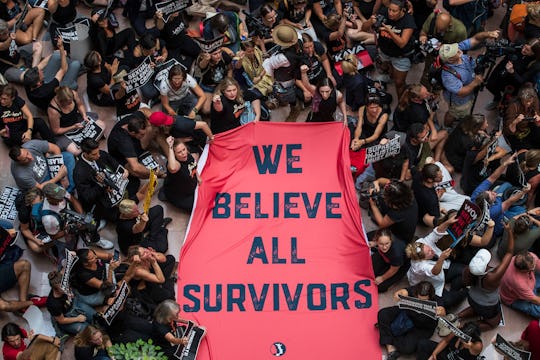 Drew Angerer/Getty Images News/Getty Images
These Photos Of Demonstrators Protesting Brett Kavanaugh's SCOTUS Nomination Are So Powerful
Countless people traveled to the Hart Senate Office Building on Capitol Hill this Thursday to protest Brett Kavanaugh's nomination to the Supreme Court. The protests come shortly after the White House announced that an FBI investigation into Dr. Christine Blasey Ford's sexual assault allegations against Kavanaugh supposedly found no evidence to corroborate her claims, a development that angered many. The good news? These inspiring photos from the anti-Kavanaugh demonstrations prove that citizens will continue to exercise the First Amendment for what's right.
Arizona Sen. Jeff Flake, a Republican, requested last Friday that the Senate Judiciary Committee allow an FBI investigation into Ford's claims that Kavanaugh allegedly sexually assaulted her at a high school party in 1982, according to Newsweek. The move delayed a full Senate vote on Kavanaugh's nomination to the Supreme Court, and many hoped the FBI would thoroughly investigate the matter. But throughout the week, reports surfaced that the FBI investigation was limited in scope, reportedly leaving out key potential witnesses who could possibly corroborate Ford's allegations.
Making matters even more troubling? Former classmates of Kavanaugh's at Yale University claim they had trouble contacting the FBI regarding potential evidence, according to CNN. While some reportedly hoped to contact the FBI about Kavanaugh's drinking habits — which many claim he lied about under oath, as The Hill reported — others wished to speak with investigators about corroborating Deborah Ramirez's claim that the Supreme Court nominee allegedly "thrust his penis in her face" while they were in college, according to The New Yorker.
Kavanaugh has denied all of the allegations against him, calling them "absurd and outrageous, coordinated perhaps," according to CNN.
Arguably, though, the most maddening part about this situation is that the FBI never interviewed Ford or her corroborating witnesses, according to The Hill.
Despite all of this, Principal Deputy Press Secretary for President Donald Trump, Raj Shah, took to Twitter on Thursday morning to state that "the White House is fully confident the Senate will vote to confirm Judge Kavanaugh to the Supreme Court."
Of course, this statement didn't sit well with many people who believe the FBI investigation is nothing more than a sham orchestrated by top Republican senators determined to confirm Kavanaugh at all costs. And given what's at stake if Kavanaugh is confirmed to the Supreme Court, many people joined the #CancelKavanaugh protests Thursday to let senators know exactly what they think about this entire process.
Thousands of sexual assault survivors and their allies marched from the Barrett Prettyman Courthouse — where Kavanaugh currently sits as a judge — to the Supreme Court and to the Hart Senate Office Building.
Many celebrities attended the event, like Emily Ratajkowski and Amy Schumer. Ratajkowski captioned an Instagram shot of herself holding a poster that reads, "respect female existence or expect our resistance," adding:
Today I was arrested protesting the Supreme Court nomination of Brett Kavanaugh, a man who has been accused by multiple women of sexual assault. Men who hurt women can no longer be placed in positions of power. Kavanaugh's confirmation as a Justice of the Supreme Court of the United States is a message to women in this country that they do not matter. I demand a government that acknowledges, respects and supports women as much as it does men.
Schumer was also arrested, according to BuzzFeed News, and the moment was documented extensively on Twitter.
"MY MOM AND AMY SCHUMER ARE GETTING ARRESTED TOGETHER AND AMY SAID HI TO ME," one fan captioned a video of Schumer at the Hart Senate Office Building.
The moment Schumer was detained also surfaced, and she can be heard telling a cop "yes" when asked if she "wants" to be arrested.
Massachusetts Sen. Elizabeth Warren, a Democrat, also attended the protests. "I BELIEVE CHRISTINE BLASEY FORD. I am angry on behalf of women who have been told to sit down and shut up one time too many!" Warren said to the crowds of people, according to The Hill.
Towards the end of Thursday afternoon, countless people showed up to share their thoughts. From signs about believing survivors to a mass sit-in, the photos from the protests are truly inspiring.
Just look at these:
Although it's unclear at this time whether Kavanaugh will be confirmed to the Supreme Court, what's clear is his brave critics aren't going anywhere.