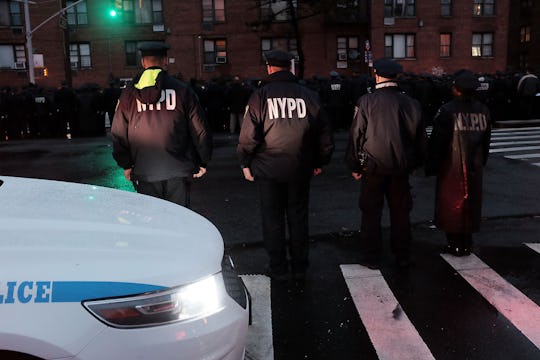 Spencer Platt/Getty Images News/Getty Images
Photos From Explosion In Chelsea, New York City Show Residents Seeking Information
Fear and confusion spread through New York City Saturday evening as reports of an explosion made their way to TV stations on online news outlets. As eye-witness accounts came pouring in, videos and photos from the explosion in Chelsea — a neighborhood in lower Manhattan — made their way onto social media in hopes of piecing together what happened that night.
(UPDATE: According to a press conference Saturday night, the explosion in New York's Chelsea neighborhood was likely an intentional act, said James O'Neill, NYPD Commissioner. New York City Mayor Bill de Blasio, however, said there is "no evidence at this point of a terror connection," and no indication that it is connected to an earlier bomb scare in New Jersey Saturday. Officials confirm 29 injuries connected to the explosion, but no major injuries or deaths have been reported at this time.)
Update, Sunday Sept. 18: In a statement to the press New York Gov. Andrew Cuomo said:
At this time there's no evidence of an international terrorism connection with this incident, but it is very, very early in the investigation, and it's just starting. It depends on your definition of terrorism. A bomb exploding in New York is obviously an act of terrorism, but it's not linked to international terrorism. ... [The state is deploying 1,000 additional police and National Guard troops] just to err on the side of caution. I want New Yorkers to be confident when they go back to work on Monday that New York is up and running and we're doing everything that we need to do.
According to ABC News, the FDNY confirmed an explosion occurred on 23rd Street and Sixth Ave. FDNY told NBC News that the explosion occurred before 8:30 p.m. ET. At the time of initial reports, it was unclear what caused the explosion. But later into the evening, The New York Post reported and confirmed that a dumpster exploded outside a residence building for the blind, blowing out the windows of the lower-level apartments.
Another uncertainty is how many people were injured in the explosion. Pix 11, New York's local news station for the CW, reported that as many as 15 people were injured in Chelsea, where as NBC News reported that as many as 26 people were injured. Additionally, CeFaan Kim, a reporter for Eyewitness News New York, tweeted that an 8-year-old was injured during the explosion, as the child was in the backseat of the car.
As reporters and officials tried to make sense of the explosion — and keep citizens of the city safe — passersby and residents took to their phones to capture the chaos of the evening.
The Scene Of The Explosion
The FDNY In Action
Eyewitness Accounts
One question on many people's mind is whether or not the Chelsea explosion is related to the Seaside Park, New Jersey bomb from earlier in the day. CNN reported that three pipe-bomb-like devices were found in a dumpster on the Seaside Park boardwalk early Saturday afternoon. No injuries were reported from the explosion, but the area was evacuated at the time.
More to come. . .