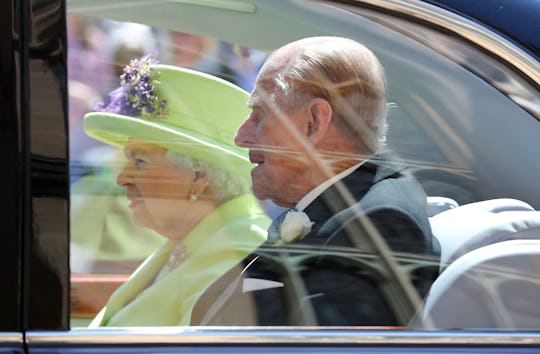 WPA Pool/Getty Images Entertainment/Getty Images
These Photos From Queen Elizabeth & Prince Philip's Wedding Are So Beautiful
While hearing the term "royal wedding" will likely remind you of the recent nuptials between Prince Harry and Meghan Markle, or even Prince William's wedding to Kate Middleton, there's one royal wedding even more legendary than both of those — and photos from Queen Elizabeth and Prince Phillip's wedding will prove that the eventual Queen of England had seriously good taste.
Yes, as the world still looks back on the May 19 wedding of the new Duke and Duchess of Sussex, the Queen and her husband are actually going to be celebrating their 71st wedding anniversary this November. And even though things were a lot different back in 1947 than they are now, Queen Elizabeth's wedding was clearly elegant and timeless.
The Queen and Prince Phillip were married at Westminster Abbey, much like Prince William and Middleton, the event was certainly a little more lavish than your typical backyard wedding. But it was still pretty understated, especially compared to just how big it could have been. Now, that isn't to say that the Queen's own wedding wasn't beautiful, because it certainly was. But, it was also different than the royal weddings of today.
Now, there are a lot of interesting tidbits about Queen Elizabeth's wedding, and the pictures make that clear.
Though Queen Elizabeth was a bright, 21-year-old when she got married, she actually met her future husband when she was young, and they're sort of related. Yes, it's true. But it isn't like they're brother and sister. In fact, they're both great-great-grandchildren of Queen Victoria, making them third cousins. But it wasn't until the young Queen (then a princess), saw Prince Philip while touring the Royal Naval College at Dartmouth with her parents that she really fell for him. According to Town & Country, during the tour, the princess and her family were escorted by another royal named Philip of Greece and it was only a matter of time before the queen-to-be and the 18-year-old naval cadet were pen pals with sources even claiming that the princess had a photo of the boy by her bed, framed and everything.
But just because their romance and love was almost immediate doesn't mean it was easy.
Unfortunately for the happy couple, Britain was just coming out of World War II, and for some, Prince Phillip wasn't exactly the best choice at that time. According to Town & Country, at the time, Philip was actually from the House of Schleswig-Holstein-Sonderburg-Glucksberg despite being taken in by English relatives. Additionally, all four of Philip's sisters married German princes, and three of those new brothers-in-law had allegedly joined the Nazi party.
So yeah. Things were difficult. But soon, the Queen's parents came around, and Prince Phillip became a royal citizen and took a new name, "Mountbatten," and was also granted the title Duke of Edinburgh just before the wedding, according to the official royal website.
And as for the wedding itself, well let's just say that it was quite lovely. According to the royal website, the Queen had eight bridesmaids, two page boys, and a grand total of 2,000 guests were invited to the ceremony. Now, to put things in perspective, Prince Harry and Markle's wedding only had 600 guests inside the chapel, and another 2,000 waiting outside of the church for them, according to Harper's Bazaar.
So really, Queen Elizabeth's wedding was quite spectacular, but then again, she was the "heir apparent," which means her family knew she would one day be queen. And now that she is, looking back at her wedding almost 70 years later is seriously amazing. Even back then, royal weddings were fabulous, and Queen Elizabeth certainly knows a thing or two about how to celebrate.