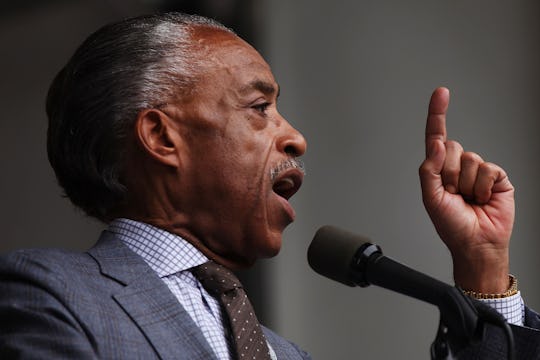 Spencer Platt/Getty Images News/Getty Images
Photos Of Al Sharpton's Oscars Protest Show That Not Everyone Is Happy About The Big Award Ceremony
It's Oscars night, finally. A night for glamour, speculation, heartbreak... and protests. The awards show has been plagued recently with outcries from the public and actors alike over what some feel is a lack of diversity in the Academy Award ranks and nominee list — and it looks as though the issue isn't about to go gentle into that good night any time soon. Photos of the Rev. Al Sharpton's Oscars protest have hit the internet and seem to be taking some serious attention away from the Oscar action, for good reason, of course.
For those of you who haven't had a chance to follow, #OscarsSoWhite has been gaining momentum across social media for the past few months. The hashtag (which refers to the all-white actor nominees this year at the Oscars) and the support behind it from such high profile stars as Jada Pinkett Smith and Spike Lee — both of whom announced in January 2016 they would be boycotting the Oscars this year — has now metamorphosed into something bigger.
At 2 p.m. on Sunday, the Rev. Al Sharpton joined demonstrators at a strip mall parking lot in Hollywood to protest "for diversity, inclusion and justice in Hollywood" and encouraged people to "tune out the Oscars" according to CBS. The rallies, organized by the National Action Network (which Sharpton founded) were also planned for Cleveland, Ohio; Detroit, Michigan; New York, New York; Washington, D.C.; and Atlanta, Georgia.
The Rev. Sharpton has been especially vocal in his criticism of the Academy Awards. According to The New York Times, when speaking recently at the First African Methodist Episcopal Church, Sharpton was quoted as saying;
They're having a party downtown, and somebody is trying to steal our crown. Don't let them! Don't let them!
He continued by letting the congregation know he had reportedly spoken to Academy officials last year, who told him, "We know we need to improve, let us make this right." According to Sharpton, "They didn't keep their word."
The protest, which was held just a few blocks away from the Dolby Theatre where the Oscars are being held, drew about 70 followers and members of the media. And as limos pulled up to the theatre, more protesters could be heard shouting "show me what diversity looks like" with Sharpton.
Change could be coming for next year. The Academy has claimed that they are listening, announcing new rules in January, which included a commitment to double the number of women and ethnic minority members in its ranks by 2020. Hopefully, this will be the last year for #OscarSoWhite, but until then, Sharpton and his supporters are more than happy to speak out.