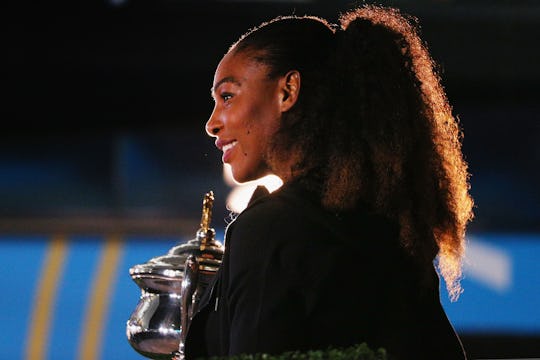 Michael Dodge/Getty Images Sport/Getty Images
Adorable Pics Of Alexis Ohanian & Serena Williams
If you aren't already in love with the modern day fairy tale that is Serena Williams and Alexis Ohanian, my condolences to your frozen heart. They've been taking the internet by storm with their sly little pregnancy announcements and cute in-jokes. Because they're the cool kids in class and guys? We're the kids who keep trying to sit as close as we can to the cool kids. Let's all accept it and move on. Scrolling through photos of Ohanian and Williams, I was looking for their secret to being cool so I could maybe emulate them. But here is their secret: They're just happy and having fun and not really concerned about the rest of us. Which is tough to desperately emulate, let me tell you.
Even the way they announced Williams' pregnancy was cool; She just happened to be taking a cute selfie in a yellow bathing suit and accidentally sent it out to the whole world. The tennis star told the BBC that she was snapping pics of her progress (which is why the photo is captioned "20 weeks") and slipped up:
I was just saving them [for myself]. I've been so good about it, but this was the one time it slipped.
Once the news of her pregnancy was out, she and her fiancee, Reddit co-founder Alexis Ohanian, decided to just go with it. Because that's what cool kids do. I think. Ohanian shared a cute cartoon of the couple reimagined as "Snoos," the Reddit mascot, and captioned the pic, "A new Snoo is on the way!"
Thankfully, we also have some real life pics of the couple, who got engaged in December 2016, to enjoy.
Like the time Ohanian swept her off her feet on the beach:
Or when they dressed up for Halloween looking all kinds of laid back adorable:
Now this might technically be a video Ohanian shared on his Instagram... but just let the couple's goofy love for each other wash all over you:
This pic, also shared on Ohanian's Instagram feed, is the epitome of We're so cool, we're not even thinking about being cool. It just sort of happens for us:
These days, Williams is taking her maternity leave from tennis after winning her record-breaking 23rd Grand Slam at the Australian Open in January. She and Ohanian are on their babymoon in Mexico, where they can also avoid the crazed reaction of their pregnancy news, I imagine. So basically, the cool kids have left the building, leaving the rest of us to talk about them. And yearn for their return.