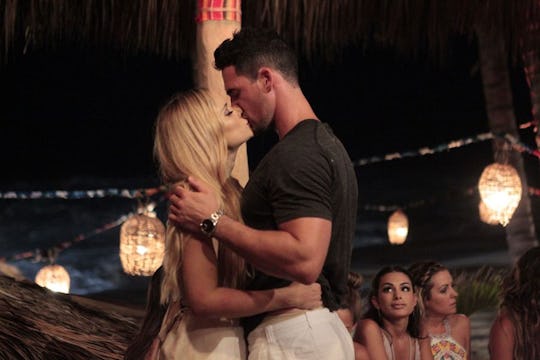 ABC/Rick Rowell
Photos Of Amanda's Ring On 'Bachelor In Paradise' Are Here, & They're Pretty Amazing
Josh and Amanda have not had the easiest go whilst in Paradise. For one, Amanda was originally with Nick – but then Josh showed up, and "stole" her away as he did with Andi Dorfman on her season of The Bachelorette. Then, multiple people attempted to warn Amanda about Josh, specifically what Andi wrote about him in her recent tell-all. Regardless, they withstood this all...for three weeks. Typical of Bachelor Nation, though, it was obviously time to propose! Josh proposed to Amanda, and photos of Amanda's ring on Bachelor in Paradise show Josh has style.
We saw other couples come together before Josh's proposal, but we also saw heartbreak. While nothing is certain in Bachelor Nation, we had a feeling Josh and Amanda's ending would be happier than, say, Nick and Jen's. Our assumptions were correct, and Amanda begin professing her love for him quickly. She said she was so excited for him to be part of her family, and could not wait for Josh to meet her children. Just as quickly, Josh began reciprocating this excitement – and also began sweating profusely. Thankfully, this did not turn Amanda off, and she accepted Josh's proposal.
"There's diamonds everywhere," the ever-observant Amanda said. Indeed, Josh picked out a pretty flashly ring, which is ture to his style. Of course, they were not alone in announcing their engagement: Carly and Evan and Grant and Lace became engaged in the finale as well. Will they last in "the real world," or will their love fizzle out now that they're no longer in Paradise?
Amanda seemed hopeful that she and Josh's relationship will last. She said she was unsure that she knew her idea of love "even existed," but "after meeting [Josh] I know it does." She said Josh is her dream guy, and it took one date to know that. Whether they'll actually last, we'll just have to see; even if they break off their engagement, we'll always remember her amazing ring.